quake's world
Welcome to The Quake, a non-commercial site touching on a variety of topics. The site was recently in maintenance and upgraded so apologies for any inconvenience and also that some items and links have not returned yet.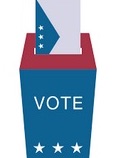 Meanwhile content will continue to be re-added to the site so feel free to check back whenever a site beholden to nobody, including pesky advertisers, is your cup of tea.
And now onto the bigger question: will the USA defeat the latest and gravest onslaught to its democracy? Other than our own individual votes, most of the other stuff is beyond our immediate control. So we vote and then keep doing whatever is legitimately possible to keep the USA a democracy. It may or may not be enough.
Local tip of the hat -- thanks California for having such a brilliantly organized mail-in ballot system with tracking. "Your vote has been received and will be counted" is always a reassuring text to see in these turbulent times.
YouTube progressive politics channels
majority report with sam seder, jamie peck
glenn kirschner
progressive voice
democracy at work
TYT [young turks]
dollemore
ring of fire
david pakman
rational national canada
some more news
humanist report
secular talk
robert reich
AJ+
patriot act
brian tyler cohen @bryantylercohen
now this news
the hill "rising" program [left and far right debate]
samantha bee
beau of the fifth column
mexie
global news canada


Truth without
consequences....

November 2020
Trump coup snuffed
It's official. CNN: "Transition can begin." BBC: "Trump accepts transition must begin." Independent: "President admits defeat and orders transition." Guardian: "Brexit no deal to cost more than Covid" - oops.... fact is dem Brits done got dair own problems, chuka!

Even crazed Trump stooge Emily Murphy, who is supposed to be impartial and professional, but dug her heels in against America's democratic process, has finally caved, her biased brain in meltdown, and she has, way too late, been forced to declare and certify it as official: "Biden has won the presidential election." Even if she sobs that Putin hasn't agreed or that she will have to dismantle her sordid shrine to Trump and to evil. Tough sh** traitor.

Trump -- you are a loser. Please crawl away.

CISA: "The 3 November election was the most secure in American history. There is no evidence that any voting system deleted or lost votes, changed votes, or was in any way compromised". Toxic Trump responded by firing CISA head Christopher Krebs. Steve Rustad: "Trump is on a rampage against democracy. He's a lawless thug, a racist, a fascist, a treasonous psychopath. And the damn GOP is complicit in his treachery." #Protect2020

"Without consequences for criminal actions by those at the top then equality under the law and no one above it becomes a lie. Either prosecute the wealthy and connected or empty the jails and prisons and shut down law enforcement as fake because accountability doesn't matter and justice is either propaganda or a cruel cudgel to beat the serfs." -- partially paraphrased [for clarity] of forum post by TheKentuckian, on Daily Kos.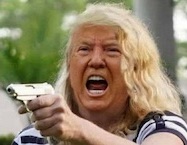 Trump on the
offensive at
the White House

Humpty Trumpty Dumped
Thomas Franck, The Guardian: "Ding-dong, the jerk is gone. Finally, we have come to the end of Donald Trump's season of extreme misrule. Voters have rejected what can only be described as the crassest, vainest, stupidest, most dysfunctional leadership this country has ever suffered."

On the day after Biden won Penn and so too the presidency, the Trump regime showed their incompetency in a spectacularly inept manner. They accidentally booked the parking lot of a nondescript garden center apparently thinking it was a luxury hotel by the same name. As reported in The Guardian, TV writer Zack Bornstein quipped on Twitter: "I could write jokes for 800 years and I'd never think of something funnier than Trump booking the Four Seasons for his big presser, and it turning out to be the Four Seasons Total Landscaping parking lot between a dildo store and a crematorium".

UPDATE: Nov 7: the day Joe Biden's Pennsylvania is called for Joe Biden. Of course, that was enough to deliver glorious victory for a hopeful American future. The "270 threshold" has been attained, even without Arizona, Nevada or Georgia reporting as of the point of no return. Congratulations to everyone who voted for good over evil.

REFLECTION: "The election of Trump and liberal backlash thereof is an awakening by millions who have been complacent observers of their government. I see that as a positive thing because it means we will all become less lazy in our thinking. More critical thinking, less reactionism. We can only hope." -- Readloudnation [2016]

UPDATE: Looks like wee biddy Joe Biden is getting closer to becoming president unless corrupt Donald Trump "wins" using the authoritarian playbook, which he's gonna try with the help of attorney general bent Billy Barr and an army of ultra right anti-democratic lackeys. By winning states like Michigan and Colorado, and now leading in Arizona, Pennsylvania, Nevada and Georgia, the flawed messiah that is Biden is well on his way. GLORIOUS RELIEF. F*** off Trump!

"Despite the frantic (and utterly predictable) attempts from President Trump and his allies to undermine the legitimacy of the vote in the states where he is losing, there have been no major foreign interference campaigns unearthed this week, and Election Day itself was relatively quiet." -- Kevin Roose, NYT
INITIAL "DAY AFTER" REACTION: The national election doesn't look good overall compared with the high hopes the Democrats had. But it can still be salvaged if Joe Biden can nab the Presidency. If Biden wins, again by no means in the bag at the time of writing, that would be truly brilliant, getting rid of Trump would be a massive, massive relief. But to make truly meaningful change they need the Senate too and that is not going to happen. The Dem's Senate bid was catastrophic. Although they should hold the House, they've actually lost double digit seats there. So now we wait....
California dreamin'
California, like the other regularly Blue states, remains staunchly aligned with the party of hope for a better and necessary future for a battered, divided and dysfunctional nation whose free and fair elections and proper democracy are still hanging by the thinnest of threads.
In the Golden state we see stark evidence that corporations have taken to successfully creating and financing propositions, such as Cal Proposition 22, which spent $200 million [as reported by fivethirtyeight.com] to "help" voters decide that Uber, Lyft, DoorDash, Instacart [etc] gig economy drivers and delivery people are classified as independent contractors not employees, thus denying them benefits and SS savings.
So while the idea of propositions has benefited the people - especially in curbing residential property tax hikes that would have made the state unaffordable to all but the wealthiest inhabitants - it has sadly, like so much else, been gamed by powerful forces that increasingly use the mechanism to achieve their own selfish ends irrespective of its benefit to the everyday Californian. Sound familiar?
But overall the result for the West Coast in general is as usual encouraging, despite the big national disappointment, and TheQuake will reflect on other Golden state results as they come in.
Result coverage & reactions from:
Majority report
Washington post home
New york times home
Other quake pages are also returning soon.