Prem action season 2020/2021
All hail Bale & Son
Mason delivers more bounce to the ounce



April 21, 2021. Rob Francis reacting
Tottenham Hotspur 2
Southampton1
Tottenham Hotspur stadium, London. Highlights
Scorers: Ings, Bale, Son [p]
Post match reactions: Right now my immediate reaction - we descended into hell and then got promoted into heaven in the space of just a few days. The game itself unfolded like a condensed flashback, a mirror image of what had gone on in the previous two and a half days. Hey, stuff happens, they got the karma cards mixed up, but all's well that ends well.
If the first half was like a tribute to Mourinho, a dismal dour display, the second half showed ever increasing signs of the swashbuckling Lilywhites we knew was bursting to express itself. Lovin' it.
Like your favorite laundry detergent, THFC acting manager Ryan Mason took 45 mins to show us what we craved to see: way more bounce to the ounce! He may be younger than some of the players, but fresh youthful exuberance [combined with a few dazzling seconds of brilliance from our now senior statesman Gareth Bale that helped turn the game around] is to be applauded.
Second half: Son Heung-min goal disallowed [Moura deemed interfering with play, gotta say Lucas seemed desperate to get on the score sheet only to get in the way on a couple of occasions], but Son goes on to notch a penalty [Saints foul on Reguilon right on the penalty area line, confirms VAR] despite a high pressure situation, that's one of the many reasons the South Korean superstar striker is so brilliant - boy did Spurs need this one.
Second half: Great Tottenham build up and inspired goal [60 min] taken by Gareth Bale. His movement on the ball, and that gloriously precise curvature on the ball as it sailed gracefully into the net. T'rific. 1:1.
Second half: Underway. Spurs actually had a shot on target. A strong statement well into the second half. THFC showing occasional signs of life.
First half winding down: Shock - Spurs get a corner. Danny Ings boots Bale's effort away. Later, the Southampton hero injured himself in the act of shooting, saved by Lloris, but Ings still had to be subbed.
Will all the would-be SuperLeagueTM team players be as lacklustre as Chelsea and Spurs have been so far? Tottenham look disorganized. What will Ryan Mason's plan be to stop the midfield and defensive rot? This could be a cricket score.
Goal #1: Saints win a series of corners and around the half hour mark take the lead courtesy Danny Ings [who else against Tottenham, 3rd of the season against THFC] from the Ward-Prowse corner. Yikes.
1st Half kicks off: We're up and running. "Ryan Mason's Lilywhite Army!"
Preview: Imagine the grief the members of the "Super League" insurrection are gonna get from opposing fans for at least a season to come. Luckily the grounds and stadiums are empty of fans so no worries for now.
Besides, Spurs fans would be doing their own celebrating, ecstatic that the one and a half year horror show under Mourinho is dead and buried, and now our interim gaffer, the youthful and Spurs thru and thru Ryan Mason will attempt to guide the white shirts of north London.

"Super League" collapses in less than 2 days

&nbsp&nbsp
Good news dept.
Southampton have a dire record playing away at Tottenham Hotspur, and with the home club's likely bounce from a squad unshackled from the chains of low block boredom, it could well be that the first time watching Spurs in yonks will actually be fun, regardless of the result. And let's face it, the only result now that matters this season is the imminent League Cup final against Manchester City.
A lot depends on the fitness of Harry Kane [unlikely] and for how long he plays if he does feature [League Cup final needs Harry]. At least, under Mourinho, the club was inordinately and heavily dependent on the brilliant presence of England super star Kane in the team.
In one of the handful of highlights of the current season, Spurs tonked the south coast side 2:5 at St.Mary's in the reverse fixture, so that alone has Saints manager Ralph Hasenhuttl craving revenge, but Southampton know they're dealing with an unknown quantity: facing a talented Tottenham line-up without the outdated constraints of Jose's negative tactics.
Southampton are the dream team of sports minded Americans everywhere, unencumbered by any threat of relegation but simply playing for pride in a season long rendered sterile by mid-table ennui. Okay, couldn't resist that with all this super league nonsense barely over.
Talking of which, overnight the English super league wannabe teams have all fled via the exits so, as previously mentioned, there's thankfully no away fans to take the piss.
Sky stat: "Southampton have drawn each of their last three Premier League away games against London sides."
---
Super League Crisis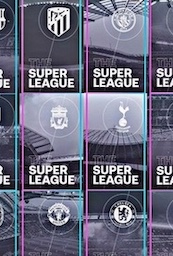 Super league
a threat to the
future of the game


Stupor League in disarray
Football fan power prevails
Within less than two days the horrific greed grab of some of the most influential "Super League" mega-clubs, whose coordinated coup, heralded with a late Sunday barrage of newsflashes, is withering on the vine. Some of the "founding dozen" have scrambled to wipe their smug announcements from their media [while the more desperate of them are still on board, even as their idea crumbles around them], or announce, in effect, "False alarm. Nothing to see here. Move along sharpish." But the PR fallout from this debacle has probably only just begun. Meanwhile, football fans show they still do have a say in the beautiful game. Glory be.

At time of writing there are two English clubs who've declared their withdrawal, namely Chelsea and Citeh, the latter club stating: "Manchester City Football Club can confirm that it has formally enacted the procedures to withdraw from the group developing plans for a European Super League." Elsewhere, Manchester Utd's breakaway architect Ed Woodward has fallen on his proverbial sword. What are Spurs and Arsenal thinking, noses held high? "No great loss." LOL. [Note: the report of Barcelona pulling out proved incorrect]. Martin Lipton: "Here's one you wouldn't have put money on: UEFA President Aleksander Ceferin is 'delighted to welcome @ManCity back to the European football family'. My enemy's enemy is my friend....?" And where, again, did Man City 'go' to be welcomed back so warmly? I'm dying here!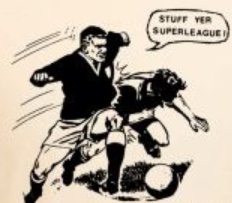 Euro Meltdown
Football fans in uproar
The Tottenham Hotspur Supporters' Trust stated on April 19th: "We demand the Board immediately disassociates itself from the breakaway league. Only then can meaningful discussions about change take place. If the Board does not do this, we will have no choice but to call on new owners prepared to safeguard the past, present and future of our great Club to step forward and work with us."
Football lurches closer to the sterile "Americanization" of the European game that will lead to lots of repetitive flavorless and dead rubber matches, games that seem more like friendlies and the absence of "everything on the line" showdowns of consequence. In short, the fossilization of top level professional sport.
MLS is a classic example of how soccer fails to attract an audience if the regular season is little more than warm-up friendlies, and by the time of the playoffs people have long since completely lost interest. The big banks and corporations don't understand the self-imploding ramifications of their decisions, mistakenly assuming that what works for the NFL will work with football turned into a super league detached from the rest of the game, and which will die the same way as a head ultimately dies without the support of a body.
Alex Samuels, Spurs fan on WATTV: "You can't have a competition without competition." Samuels also reminds us that the UEFA's perennial incompetence has contributed to this current crisis. Combine that with the fallout from the pandemic, it's brought to a head something that's been brewing for a long time.
Proposed SUPER LEAGUE: GatehouseAmi [Guardian commenter] on the new proposed Euro Super League in which Tottenham is one of the twelve "founding" clubs involved: "I like the PL's long term prospects more than those of a Super League with no promotion relegation." Meanwhile, Jose is terminated as THFC manager.
---
The Spur's Premier action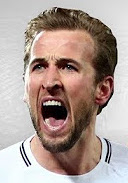 Kane nabs a
brace of true
poacher's goals

Mourinho gone
Reactions to 2 big stories
Everton 2
Tottenham Hotspur 2
April 16, 2021 (Ssn 2020/21)
Goodison Park, Liverpool. FINAL SCORE.
US TV: NBCSN. Online: fuboTV, SlingB, Hulu. H Hoofball reacting.

Match Reactions: "I think Jose also knows his time is limited, whatever people may think of the guy he ain't stupid and he knows he's not doing what was asked and that only ends one way for a manager." -- dier hard, not606 forum

Reactions on the way as Everton vs Spurs concludes a 2:2 draw.

Match over: Tottenham Hotspur yet again let a lead slide. At least, thanks to Lamela and Kane, they didn't collapse and fought back to nab a point, but that's not enough to get into the Top 4. Now it's gotta be a bid for the Europa league.

MAN OF THE MATCH: Shared between Harry Kane whose goalscoring prowess knows no bounds, and Hugo Lloris was oozing professional goalkeeping to keep THFC in the game.
2nd Half: But wait it's Harry to the rescue as Lamela finds the England ace with his incredible ability to be positioned and coiled ready to bury a great feed. 2:2, Spurs are level.
Seamus Coleman comes on as a sub and immediately sets up ex-Spur Sigurdsson who scores a crackerjack goal as Spurs fans fear the grim inevitability of losing their grip on victory or even of a draw.
1st Half: 1:1 at half time as Harry Kane scores a true poacher's goal to put Spurs ahead.... another story unfolding of THFC leading and then blowing it? Well an Everton penalty scored by ex-Spur Sigurdsson makes it even going into the half time break.
---
Premier league action
Tottenham's toxic Mouro
Will Harry Kane "leave Spurs"?



April 11, 2021
Tottenham Hotspur 1
Manchester United 3
@ TH Stadium, London N17. Final score.
Reactions: "It is striking how different the mood around Old Trafford is now to how it was in Mourinho's final season, largely because of the personalities of the managers. Like a toxic Charlie Brown, Mourinho bears with him his personal cloud. By this stage in his reign, his focus seems always to have shifted from getting results to making sure nobody blames him for the results. By contrast, Solskaer's name literally means sunshine. Whatever else may be said of him as a manager, he lifts gloom." -- Jonathan Wilson The Guardian match report.
"We've just watched Pogba and Shaw, 2 players who Jose ostracised and convinced many were shit, have a jolly up on our heads." -- Team Spirit, Fighting Cock forum.
A ray of hope from Guardian reader godfrey007: "All the bad Spurs managers win one league cup."
"Groundhog day again. As soon as any team starts actually competing with us in the 2nd half we have no answer." -- Brad Matthews, you-tube watcher of Chris Cowlin channel.
Check back for reactions here at The Spur as Mason Greenwood seals the result making it 1:3.
How much longer can this go on for THFC? Will the reactions reflect the general mood: Mourinho gone at the close of the season, and, sadly, the amazing Harry Kane too [link to the Irish Hotspur]. As always he was defending, attacking, and everything in between.
It was an expensive and ultimately disastrous choice of managers. The modern world means that every year the big get bigger and the small get smaller [in the corporate economic world and in sports] as we spin out of control. Let's see if the world reacts similarly to this opinion.
Second Half: Cavani gets his revenge for being disallowed in the 1st half. Teenager Mason Greenwood, on as a sub, providing the cross. 1:2, probably the winner. [Turned out he himself scored which did seal Spurs' fate.]
Sure enough, just as we thought, United powering back and not long after the break they equalize. Lo Celso replaced by French midfielder Moussa Sissoko.
Under Mourinho, Spurs have a massive problem holding onto leads, and United have a phenomenal away record, so this is going to be, uh, interesting.
First Half: Here we go. Match underway. 36th min controversial Utd "goal" disallowed. A few minutes later, Heung-min Son caps a brilliant Tottenham build-up to put the Lilywhites ahead. A cautious start first half turned into controversy from a well worked United disallowed goal and a quick response by Spurs to take the lead.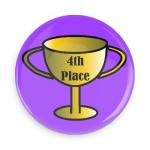 Club announces line-up: Lloris; Aurier, Rodon, Dier, Reguilon; Hojbjerg, Ndombele, Lo Celso, Lucas; Son, Kane.
BBC Football remind us: "Tottenham are seeking a league double over Manchester United for the first time since the 1989-90 season .... Spurs have won just six of their 28 Premier League home games against United - but three of those wins have come in the past five seasons."
Spurs vs Man Utd - one of the classic match ups in every year of the English fixture list.
---
Premier league action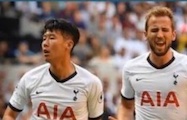 Spurs slip in battle for 4th
Geordies 2 Lilywhites 2
Sun, April 04, 2021 (Ssn 2020/21) Live in US Online & TV
Newcastle United 2
Tottenham Hotspur 2
NUFC fan Geordie twitter

Second half in action: Just minutes to go before full time and a quick Spurs break sees Kane hit the post. Instead, Newcastle nab the equalizer. That's how it ends. Please check back for reactions coming in soon.

Spurs start the second half 1:2 up and with Son Heung-min replacing Vinicius. Although ahead, THFC have dropped the Moho shell that has cost the side so dearly in earlier games and they've been actively seeking a third. Newcastle also looking too good to go down, but right now, Spurs have the valuable points.

First half in action: Both sides going for it. Not surprising that the home side have been in terrible form but suddenly find their mojo when presented with Tottenham, breaking thru in around the 27th min to take the lead which lasts 1.5 mins before Kane equalizes. And he's not done yet, within a few minutes he's notched a brace. 1:2 to THFC.

Earlier in the first half: Turns out Reguilon is ready to play again but not Son Heung-min, so Carlos Vinicius starts up front with Harry Kane. In the opening minutes Lucas Moura [pic] is the shining light for the visiting Londoners including an early chance just wide. Around the 18th min Newcastle almost score in goalmouth scramble but Lloris saves the day for now. Six mins later Vinicius "scores" but flagged for offside.

Line-up: Lloris; Tanganga, Sanchez, Rodon, Reguilon; Lo Celso, Ndombele, Hojbjerg, Moura; Vinicius, Kane.

Match preview: A couple of seasons ago in this corresponding fixture The Spur noted how Geordie fans were complaining about their paper thin squad and how their club is being run into the ground. "Spurs are light years ahead of us because of one fat b@stard," complained Newcastle poster Kal. Back then Spurs fans were also unimpressed with their club's lack of transfer signings.

But since then [Aug 2018], when Spurs went on to win 1:2 [when Poch was in charge], the gap between the two clubs is even wider, with Spurs, despite our wobbly current season, in a five horse race for the 4th Champs league spot, while Newcastle are only one place above the relegation zone going into Sunday's premier action.

More recently, the corresponding fixture for last season saw Tottenham, under Mourinho's guidance, enjoy a 1:3 win with Son scoring first, the Geordies levelling, and then Harry Kane nabbing a brace.

Son and Reguilon are available for this one.
---
Premier league action


Spurs arrest Villans
Let's have Moura that, Spurs
March 21, 2021 (Ssn 2020/21) @ Villa Park, Birmingham
Aston Villa 0 Tottenham Hotspur 2
NBC hilites of this match.

Reactions: Cartilage Free Captain: "Lucas Moura had a really nice match, working well with Kane and Vinicius, and getting back to make some good defensive plays too. He continues his solid run of form." Indeed. Lucas with lid off.

This BBC Football fact puts a wonderfully positive spin on the Spurs trajectory: "Tottenham have won four of their last five Premier League games, as many as their previous 15 league matches beforehand." True but rosy. Like their take on Carlos Vinicius: The Brazilian "has scored nine goals in his nine starts for Tottenham across all competitions." Again, true but rosy. But gotta love the positivity, and they're just the facts, Ma'm.

BBC reader post: "There are about 6/7 teams who could get the 4th spot for a Champions league place for next season. It's a big ask for Spurs as they can't show any consistency this year .... Moura was good and has passion for the team."

That said, what a refreshing on-field change to Tottenham Hotspur. The Lilywhites played like an actual football side instead of sitting back in a defensive shell and waiting to concede goals. We're not Brazil, mind -- City would have run this show -- but an almost unbelievably welcome performance none the less. T'rific.

Second Half: Harry gets a goal closer to the club record of Jimmy Greaves, fouled on the end touch-line in the box and blasting it in from the spot [68']. Two nil, massive sigh of relief for Spurs supporters all over the globe. Villa, by contrast, have shown surprisingly little in this game and now have a mountain to climb, thankfully, and they're no Arsenal or Zagreb, especially missing Jack Grealish.

Early doors after the break Kane comes so close, twice. Moura in the action as usual.

First Half: Oh that's a nice goal, around the 29th minute, from Spurs scored by Carlos Vinicius [1st Prem goal] with amazing support from Harry Kane and the current man of the match Lucas Moura.

Quarter way thru the match, Spurs looking livelier than previous two nightmare matches, about even so far, but Villa create the best opportunity so far, around the 20th minute.

Match has kicked off and lots of changes in the starting side, some forced like Lamela [suspended], others, like Winks, a managerial decision, as we get underway with the super soaraway Spur. Vinicius makes a very rare league start, known more as a Europa league and Cup striker.

Match in progress: Rodon in a rare first team appearance. Tanganga another not heavily started. Lloris; Tanganga, Rodon, Sanchez, Reguilon; Moura, Hojbjerg, Ndombele, Lo Celso; Vinicius, Kane.
---
Europa league action (Ssn 2020/21)
Zagreb 3:2 Spurs [Agg]
Spurs collapse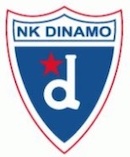 March 18, 2021. Rob F reacting.
Dinamo Zagreb 3 [FINAL]
Tottenham Hotspur 0
Final. 3:2 agg. DZ thru.
US TV:TUDN. Net:Fubo, P'mount
Post Match: It's all over in more than one way as THFC abjectly exit the Europa league losing 3:2 on aggregate. All we need now is for Alan Sugar to buy back the club and the final blow to this once great club is complete. Never mind, cheer up, we could be Birmingham City.
Jose must also stop blaming the players and take responsibility for this recent horror show version of a great club. His era ended sometime before his 2nd stint at Chelsea. That's now a long time ago. He's lost the dressing room. This was a performance by players who don't want to play for their manager and want him gone, sorry to say.
Match: Mourinho has turbo-charged Spursy. Yes we actually blew a two goal lead and in part two of extra time Zagreb nab a third [so agg is 3:2 no away goals]. The Spurs internet must be in meltdown right now. I am also melting down.
Preview: Sportingpedia: "Tottenham defeated Dinamo Zagreb 2:0 last week in London. That was the first competitive game between the two sides, who have faced each other just once more in their history, when meeting for a friendly way back in 2008. Then the Spurs trashed their Croatian opponents 4:0. To summerize, Tottenham have won both matches with more than a one goal margin and have managed to keep clean sheets in both encounters.
"Dinamo Zagreb quickly returned to winning ways after losing to Tottenham last Thursday, trashing Varazdin 0:5 away from home in a game of the Croatian league on Sunday.
"Tottenham lost the North London derby 2:1 to Arsenal on Sunday. Prior to that game Jose Mourinho's side was on a run of five straight victories, conceding a total of one goal in the process."
Heung-Min Son and Giovani Lo Celso are injured.
Evening Standard: "Two goals from Harry Kane has Spurs in the driving seat as they look to win the competition to lift some long-awaited silverware, in what remains their most likely route back into the Champions League. There will be a new face in the Dinamo dugout after former manager Zoran Mamic resigned after being sentenced to prison for more than four years."
Please check back for in-match and post-match reactions here at The Spur.
---
Premier league action



Lamela rabona in vain
Moura shines but Spurs poor
Arsenal 2
Tottenham Hotspur 1
Mar 14, 2021 (Ssn 2020/21) FINAL SCORE
US Live TV: NBCSN,Telemundo. Stream: Fubo,Sling,Hulu
What the ***** are Tottenham trying to do?! asks ESPN.
Second half: It's all over. Convincing victory for the home side. Manager Mourinho, as with his uninspiring, frustrating stint at Man Utd, is not delivering what Tottenham Hotspur require going forward. Mouro cannot overcome his addiction to the defensive shell and counting on a break. The players look neutered again. Bloodbath in the League Cup final?
Stoppage time, Arsenal finally regain control after a brief spell of panic as, for a moment, THFC had the momentum, but not enough. A Kane free kick goes over. Once again Lucas Moura was the one creating the few THFC chances.
Final minute Kane free kick almost does it for Spurs to equalize, so close with Harry hitting the post with AFC keeper beaten. That could have been the one. Harry tried like hell at the end but earlier he never got proper service to get into the game.
Kane heads in Lucas Moura's free-kick but offside. A few minutes left.
Lamela's 2nd yellow, off he goes. A talented player whose mistakes make his plusses arguably too expensive.
Doherty concedes penalty, Lacazette scores, 2:1 home side. Spurs have been "desperately poor" in the words of the BBC match tracker. Dele Alli subbed in for Ndombele.
First half: Mr Rabona Erik Lamela puts the lads ahead. After half an hour of parking the rickety bus THFC came to life [it didn't last --Ed.] and what a goal.
Arsenal striker Aubameyang doesn't start. Good omen for Spurs? Arsenal moving the ball around, Spurs are in containment mode. Gooner Smith Rowe hits the crossbar. Uh oh, Son makes a run forward but ends up going off injured with Lamela on.
Tottenham Hotspur Lloris; Doherty, Sanchez, Alderweireld, Reguilon; Ndombele, Hojbjerg; Bale, Lucas Moura, Son; Kane.
Arsenal: Leno; Cedric, David Luiz, Gabriel, Tierney; Partey, Xhaka; Saka, Odegaard, Smith Rowe; Lacazette.

Preview:Remember moaning sharky gooner having a moan back in 2016? He's sobered up just a bit since then, recently confessing: "I hate that I support the same football team as Piers Morgan." Fair play, he's an honest geezer.
Yes it's that time again, what some people mistakenly call the north London derby but actually isn't because only one is from north London, namely Tottenham. Arsenal are from south-east London, if you know yer 'istory.

Spurs Women stem losses with 0:0 draw at Reading W.

&nbsp&nbsp
The Spur
That said, Spurs do have a very significant and loyal fanbase in both south London and the southern home counties in addition to the more obvious areas, so props to them all.
Rob Guest on Football.london: "Jose Mourinho now has his ultimate big-game player to run riot alongside Harry Kane vs Arsenal."
Please check back and also delighted to say there will be no delay in reacting to this match as happened recently owing to other circumstances beyond TheSpur's control.
That's it for now but more match play reactions right here in moments. Please check back.
---
Europa league action (Ssn 2020/21)
Kane nabs brace
1st leg ends with 2:0 THFC win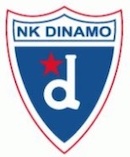 March 11, 2021. Rob F reacting.
Tottenham Hotspur 2
vs. Dinamo Zagreb 0
US TV:Unimas. Net:Fubo, Paramount. Hilites
Reactions: nuttynailor, Guardian reader: "It was nice to see players making runs off the ball. There were many occasions that a player on the ball had a choice of forward passes which makes a change to the stagnant performances of earlier this year. Also really been impressed with Lamela lately. Let's hope for more of the same in the NLD."
Robbo, Glory glory: "Solid win against a team of thugs aided by the blind man with the whistle."
remembercolinlee, not606 "Goons get a third...Kane get a giant ice pack...and Moura gets another lump kicked outta him. This ref is beyond bad." [Arsenal went on to win away 1:3 at Olympiakos. For Spurs: Kane seemed okay last seen, but no guarantee.]
Cartilage free captain: "The North London Derby looms ahead this weekend for Tottenham Hotspur, and Jose Mourinho rotated for this European first leg accordingly, making seven changes from the team that started against Crystal Palace at the weekend. Only Hugo Lloris, Harry Kane, Son Heung-Min, and Davinson Sanchez retained their starting spots."
TheSpur reactions: Apparently Clive Allen was one of the voices on the UK feed of this game but for me it was in Mexican Spanish so would have liked to hear Mr Allen but as a consolation prize my Spanish is improving [from ground zero], and the Mexican version is easier to understand and learn -- at least: as spoken by articulate commentators. No lisping, for one thing. Anyway, no away goals for Zagreb is a massive bonus on top of the two for Tottenham.
Second Half: Back in action again and Harry's second. Get in there! This time for a clearance. He's been at exactly the right place at the right time, has 'Arry. That's the lot for this game live-wise but after full time please check back for the reactions above. Call me "the pillow guy" but I love a cushion over a slender lead to take into the second leg. Can U taste the quarter-finals, amigos? Si, si.
First Half: Great build up leading to Erik Lamela ghosting his way round opponents to unleash a shot that bounces back off the post to a conveniently located Harry Kane who guides it into an empty net with the Zagreb keeper hout of position trying to deal with Lamela's prior threat.
---
Prem action
Another big win
Bale and Kane get braces, Spurs romp 2nd half



March 07, 2021
Tottenham Hotspur 4
Crystal Palace 1
NBC U-tube Hilites [updated]
Full time and another big Spurs win with the lads on fire second half. Amazing. Tottenham like scoring four goals at the minute. Check back for more reactions.
BBC Matchtracker: "Erik Lamela lofts a cross into the box and Son squares it across the six-yard line for Kane to head into an empty net." That's goal numero quatro and Kane joins Bale on a brace.
Wowza, scintillating third THFC goal to make it 3:1 that is a worldie golasso. About 32 yards out into the top corner. Still a way to go to surpass Jimmy Greaves' all time club record but he's knockin' 'em in with style that lad.
Second half: We'll have the same again please: a Bale assist for Kane to score, like the first Spurs goal!
Spursy time as Christian Benteke equalizes.
It's all started jolly well with Gareth Bale scoring just after midway in the 1st half from an assist by Harry Kane. BBC Matchtracker: "Palace make their first defensive mistake and Spurs lead. Lucas Moura catches Luka Milivojevic out and feeds Harry Kane down the left. Kane rolls the ball across the six-yard box for in-form Gareth Bale to tap in at the back post."
Here we go!: Palace have a place in our hearts because in THFC's first senior match at Tottenham Hotspur's "astonishing" new stadium the Lilywhites won!
---
Prem action 20020/21
Just enough
Rub of the green enough for Spurs


Mar 04, 2021
Fulham 0
Tottenham Hotspur 1
Craven Cottage, W London
Live USA online. Highlights

Matchday: More reactions coming soon as an own goal is enough to see Spurs thru in a critical victory that sees the north London side getting something of a winning run going, with Dele Alli and Gareth Bale both starting the match and both involved in the build-up to what resulted in the only goal even if it was ultimately an own goal.

Fulham could have easily equalized if one of their several efforts had gone in or not been well saved by Lloris, rising to the occasion when called upon, and ultimately it's one of those kinda grind it out games with Spurs having more luck than Fulham who, who for all their good footballing this season, aren't nailing it enough and almost never seeming to get the rub of the green.

Tottenham fielded a strong squad which is demanding on the talent with matches cascading down from the fixture list with the Lilywhites at home to face Crystal Palace only three days after this trek down by the river side. We have to keep in perspective that our key players are being asked to play their socks off and -- yes -- they get paid well, but their human bodies are being asked to be almost superhuman.

"Spurs intensity just dropped off a cliff towards the end of the game. Hard to say if it's bad habits of trying to cling on to a lead by dropping deep, negative tactics by Jose, or plain old fatigue. Either way, it seemed like the players just couldn't press at all. Its a problem and would have cost 2 points but for a bizarre quirk of the handball rule." -- Matt Cruisekeen, Guardian reader. "Mourinho's Spurs lapsed into a default position that I can only assume has been coached into them." -- Sulayr, Guardian reader.

BBC Football match report: "Making a first league start since the opening day, Dele Alli played a key role in the visitors' 19th-minute opener as he fed the ball wide to Son Heung-min before meeting the South Korean's low cross - though Adarabioyo inadvertently got the decisive touch."

Pre-match: "Without Bale we're so one dimensional, we just get the ball out on the left and get closed down. It's nice to have a threat from the right hand side as well for a change. It stretches teams." -- Jake, Fighting Cock poster.

Dustin G-Miller, SB Nation: "Fulham are a team that Tottenham Hotspur should be able to handle, but the Cottagers' organization and defense could make things difficult. A low-scoring match would not at all be unusual, and Tottenham will need to be clinical with their chances. A win for Fulham would be a huge boost in their campaign to stay in the Premier League another season."

Sky Sports: "Tottenham will be without Giovani Lo Celso. The Argentine has been out since December with a hamstring injury and, although he is back in training, the midfielder will not be rushed. Spurs boss Jose Mourinho has confirmed Gareth Bale will be involved after showing no ill-effects after his devastating display against Burnley on Sunday."
---
Premier league action (Ssn 2020/21)
Spurs are back
Long awaited Prem form returns



February 28, 2021. Rob F reacting.
Tottenham Hotspur 4 (3)
vs. Burnley 0 (0)
US TV:NBCSN.Net:Fubo,Sling,Hulu. FULL TIME. Highlights
Second Half: Off we go again, Spurs three up. Ndombele and Reguilon start a beautiful move to release Son whose sublime pass to Bale sets the Burnley alarm bells ringing, the Welshman is back big time with a sensational bending shot into the far corner of the Park Lane net. Four up.
First Half: 90 minute delay for reasons beyond my control, and knowing only that Arsenal won at Leicester to get off to a sombre Sunday. But wait.... Gareth Bale scores with his first touch from a pinpoint Son center - Lilywhites in front after only SEVENTY seconds.
Tottenham fans chuffed to see Kane, Son & Bale, the unholy trinity, starting together again, and they combine to threaten a second goal. Then #2 actually comes with Bale becoming the provider with a long searching ball from the back out to Kane who thumps it home. Voila. Whether it's credited to Kane or an own goal remains to be seen, but THFC are two up and the game is still young. Gareth Bale now on one goal and one assist. Goal given to Kane who's now the #2 Tottenham scorer of all time, only trailing Jimmy "for England" Greaves.
Just over half an hour in and then a deadly sequence culminating with Reguilon to Son to Moura to Bale back to Reg who centers and, via a slight and desperate headed defensive deflection, reaches Luca Moura who brings the ball down, swivels and unleashes his left boot through the ball as the net ripples in joy. Numero tres.
Preview: Going into Sunday's slate of matches Tottenham Hotspur boast 9th place with 36 points while Burnley FC claim 15th spot with 28 points, but the visiting Lancashire club enjoys stronger league form over their last six matches though neither has much to write home about. For Burnley's relegation struggle, though, four games unbeaten is giving them a strong psychological boost and puts them tantalizingly close to safety. Spurs need a Prem win desperately in a league run that is numbingly mediocre and they have three consecutive league London derbies coming up including away to Arsenal.
Sean Dyche has been a terrific manager for Burnley so far and knows the low block and the quick break in ways that would make Mourinho blush. However the Portuguese manager of the London side has potential talent at his disposal that the Clarets of the North could only dream about. Whether Jose can utilize his Spurs squad effectively is the million dollar question, each and every [mostly disappointing] game since he's been boss.
One of Tottenham's most telling talent is Gio Lo Celso but he remains injured. Otherwise, the serious Spurs stars are available. Add to that Gareth Bale and Dele Alli's long awaited returns to form and in theory the Londoners should be victorious. Lawro of BBC Football predicts 2:0, yours truly Rob Francis plumps for 2:1.
The neutral footballing global audience will view this as a warm-up for Chelsea vs Manchester United which follows on the same day but obviously for Tottenham and Burnley fans this match means the world.
---
Europa league
Spurs 4:0 WAC
8:1 aggregate as Spurs sweep thru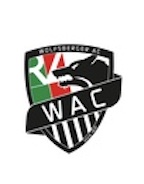 Feb 24, 2021 [Season 2020/21]
Tottenham Hotspur 4
vs. Wolfsberger AC 0
Temp highlights

Matchday: Spurs go thru with a whopping 8:1 aggregate that stands in stark contrast to the dismal overall season for the club. The other big contrast is the players who have sucked in other tournaments have shone beyond belief at times in the Europa league, notably Dele Alli, Gareth Bale, and Erik Lamela.

The Lilywhites go into the last sixteen and of course to win the competition outright and thus get into the Champions league would completely turn the season around. That's gotta be the plan for Jose Mourinho because nothing else will be enough for him to remain at THFC given that the chances of beating Citeh in the League Cup final are extremely slim, and Top 4 is a pipe-dream.

Even winning the League Cup won't save him if that's the only good news -- this is a club run by people who are heavily banking on going deep regularly in the Euro Champs league. You don't build a world beating new stadium like this club has, spending a bundle on "talent" including manager, and then settle for wins over Austrian league teams or even a solitary League Cup final win. Financially that ain't gonna cut it after the ravages of a pandemic.

That's by no means to say this was not an impressive aggregate tally for Tottenham. It also shows that given the freedom to express themselves the talent is there in the team, just latent most of the time.

The talent pool also needs strengthening.

Mourinho: "We played well for large periods and all four goals were beautiful."

The match-ups for the Round of 16 are made this Friday. Who can it be next?
---
The Premier league 2020/21
The slide continues
Spurs fight back but still lose



Feb 21, 2021
West Ham Utd 2
Tottenham Hotspur 1

Spurs were almost a no show in the first half but later in the game fought back and on another day could have taken a point but only Lucas Moura managed to lessen the deficit from a Gareth Bale corner.
Check back for more reactions as both clubs continue their trajectory in opposite directions with both good and bad omens for the north London club in their battle to stave off terminal decline in the Premier league while still hoping to win the Europa league as their sole target for success this season.

Arsenal flop 0:1 home to Man City

&nbsp&nbsp
Full time

So up next it's Wolfsberger AC in the Europa and Burnley in the Prem, two highly winnable games that gives THFC a chance to show the positives emerging in this match including signs of form from Bale, some excitement generated from the side as they fought back and started to pressurize West Ham in the second half, and erase the negatives such as periods of sluggishness [like most of the first half] and Mourinho's main problem of creating a side that doesn't seem to have a cohesive vision or discernable sense of who they are and what they're trying to do. A big task, to put it mildly, for a manager under building pressure.

In the end Spurs had 69% of the possession and equal amount of shots on goal [4]. West Ham felt it necessary to foul more [11-7] and receive more yellow cards [4:3]. The home side "were prepared to suffer", in the words of Guardian writer Jacob Steinberg, to keep the Lilywhites at bay. Overall, irrespective of what Jose Mourinho's take may turn out to be, the better side on the day won. But this does not deny the fact that Tottenham fought back instead of fading and that's the single best feature of the match for the visitors.

"Today we had to rely on the woodwork a few times but I will take the two goals." -- reddies, WHU fan, Guardian match report commenter
---
Europa league
Spurs WAC the Wolves
Europa KO begins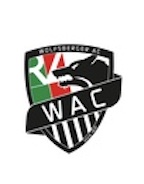 Feb 18, 2021 [Season 2020/21]
Wolfsberger [WAC] 1
Tottenham Hotspur 4
US Live! TV:TUDN; Net:Fubo,CBS-Access , hosted by Tao Jones

Reactions: It was a convincing win but admittedly and obviously Wolfsberger are the minnows of the Europa league at this stage. But don't take anything away from the lads they did what they needed to, went three up, did the Spursy routine and conceded a goal and looked dodgy for a while, but then sealed the 4th which gives THFC a massive advantage going into the 2nd leg.

Please check back for reactions from both The Spur and how the rest of the internet responds to this welcome win after so many disappointing recent matches.

Preview: Tottenham Hotspur play their first match in the knockout rounds "away" [but actually on neutral soil] to Austria's WAC football club who hail from from Wolfsberg, a bucolic part of amazing Austria.

Even though it's the first game of this "sudden death" [as it's called in the States] phase of this season's Europa league, upon which, in effect, the London club's only real chance of getting into the European champion's league rests, it's not exactly a match the entire footballing globe is obsessed with. Mainly because Spurs have been an unsuccessful yawn so far this winter.

Well amigos, blow out the cobwebs and let's kick some serious ass to bring our club back to life. Go Spurs bro! Those guys are WAC!
---
The Spur's Premiership
Lackluster Lilywhites
Spurvival damage control


Feb 13, 2021 [Season 2020/21]
Manchester City 3
Tottenham Hotspur 0
NBC & online @ 9.30a US pacific by Rob Francis

Post Match: There's your preview of the League Cup final - if we're lucky. If "Spurvival damage control" loses control it could be a lot worse in the final. And with West Ham next in the prem, the humiliation fest could begin. Yikes.

Match time: Spurs two down second half. Sorry to report Spurs one up earlier, wishful thinking. Haven't heard the cyber fans chanting "Mourinho out". The English language NBC feed seems to have baled on the match entirely in favor of the Trump trial, so switched to Universo spanish feed. Sure, dump on Trump, but I'm getting the hump. Let's be able to watch the game, no matter how painful. Lovin' the THFC away strip of racing green and black. Very cool.

Pre-match: Will "football be the winner today" or "will the best team lose"? Spurs can win at City and have proved it several times in recent history. For example, in Jan 2017 Tottenham were two goals down and outclassed by a City side dramatically superior on the day, Spurs nonetheless bounced back to ultimately take a point with a beautiful second equalizing goal, this time pummeled in by Hueng-min Son, deliciously set up by Christian Ericksen by way of a magically deft redirection from the ever alert Harry Kane.

BBC Football's Lawro predicts a 2-1 City win: "City's last defeat came against Spurs, when they were on the wrong end of a classic Jose Mourinho performance that saw his side score early then pretty much shut up shop. A lot has changed for Pep Guardiola and his players since then, though."
Can Son
shine again?
Sergio Aguero is fit again after battling Covid issues and as an oncoming sub could be a viral problem for the Londoners' defense which looked awfully frail in the FA Cup loss to Everton.
Elsewhere this weekend Liverpool's problems continue, losing to Leicester who at the time of writing become City's closest title contender rivals. Prior to our kick off City are of course proudly perched atop the Prem with the Lilywhites 13 points behind in eighth spot. In the last five prem game form book we see the Citizens with a 100% win tally, whereas Spurs won two and lost three.
The Guardian's Scott Murray tells us: "Harry Kane, Eric Dier and Japhet Tanganga, the latter making his first Premier League start of the season, replace Steven Bergwijn, Toby Alderweireld and Matt Doherty, who all drop to the bench."
"Manchester City make two changes to the side that routed Liverpool at Anfield last weekend." Jesus and Laporte are in, Riyad Mahrez out.
Check back for in-game reactions and following this big showdown.

| | |
| --- | --- |
| | TOTTENHAM TURFIE'S PREDICTION: Never easy to predict a Tottenham loss but here we go.... 3:1. |
---
FA Cup action


Goalfest
Out the FA Cup with a thriller
Everton 5
Tottenham Hotspur 4
Wed, Feb 10, 2021 (Ssn 2020/21)
Goodison Park Highlights. Shots on target: 9:11
Anyone remember the goalfest at Goodison Park in December 2018 when, under Poch, Spurs beat the Toffees 2:6 in the league? Well this 2021 Cup encounter was of course even higher scoring, but under Mouro the majority went to the home side this time. That said, the north London club actually had more shots on target.
This was a memorable Cup match but it doesn't help Spurs or Mouro and will soon be viewed as a fascinating sideshow distraction in the latter stage of Jose's tenure. "When the year ends in 1, Jose will spoil the fun."
Also spoiling the fun was ex-Spur Gylfi Sigurdsson who has been a thorn in Tottenham's side ever since moving to the Merseyside Blues. This time he scored one [a penalty] and assisted three EFC goals including the final goal of the game that sent Spurs reeling out of the Cup.
Still to play for: a League Cup final, the Europa League is in the exciting knockout phase, and a brutal fight for top 4 in the Prem.
---
Prem league action
Spurs bag Brom
Son shines as Spurs Kane Baggies



Feb 07, 2021 (Ssn 20020/21)
Tottenham H. 2
West Bromwich Alb. 0
Rob Francis
The bottom line: Spurs are back thanks to Harry being back. The Kane/Son partnership was integral to pulling out of a terrifying Tottenham tailspin. At least we just missed the mountainside but the engines only sputtered back into partial life. Don't unfasten your seatbelts.
Records are for breaking and Harry Kane is getting close. As Cartilage free captain among others pointed out: "Bobby Smith scored 208 goals in 317 appearances. Harry Kane has now scored 208 goals... in 317 appearances. Wild statistic."
The chemistry of our two frontmen was in full evidence and a reminder that whilst they are truly exceptional individual talents, it's mostly together that they truly sparkle and whilst it's wrong to say the Lilywhites completely depend on them there's no doubt that this is the dynamic duo that gets Tottenham off the ground. For example, when Kane is around, observes The Guardian's Jacob Steinberg: "Son Heung-min comes alive on the left wing, hunting opportunities and giving defenders nightmares."
After this weekend's games Spurs stay at 8th but have a game in hand over many of the teams above and as such stay in contention for a top four place but it's obviously gonna be brutal to get in to next season's Champs league via this route or indeed by winning the Europa Cup.
Guardian match report forum poster hotsi partially echoed many supporters' sentiments typing: "A win's a win but still not convinced that Mourinho is the right manager for Spurs. All this result does is to paper over the cracks." Agreed, he's not the right manager for this club which is why there was a massive global howl of anguish when it was first announced. But this result does more than paper over the cracks, this win was desperately needed for the club over and above Mouro himself.
A win is indeed a win and it was all the more sweet as Arsenal lost yet again, victim to former Brentford whizz kid Ollie Watkins and his new Villa teammates, so a healthy gap remains between us and the goons. That said, as with us, they've got some serious talent on their squad who are not properly firing on all cylinders.
More reactions soon.
Preview: On Sky Sports the preview of the match centered around whether Tottenham Hotspur are the most boring side in the Premier league.
This is actually not going to be too painful to watch whatever happens. If we win, a nice 3 points. If we draw, the noose tightens. If we lose, the lever is pulled.
But don't watch for scintillating football played the Spurs Way because this side ain't coached by Bill Nicholson no more and the other lot are coached by Big Sam, respectively voted by pub pundits around the globe as the two most boring managers of all time. George Graham only made third place.
But there could be goals because WBA actually have high scoring games. As BBC Football points out "there have been 29 goals in West Brom's last 7 league games." Of course, WBA scored few of those, so the onus will be on Tottenham to bang 'em in.
Albion could be the expected handful, snapping and closing down in what passes for terriers in this pandemic. But Spurs may not fancy the physical commitment.
At least Arsenal are also in a tailspin, however they still do play what is recognizable as professional level football [League One level recently] unlike Spurs who amble aimlessly around.
Wish we had a free kick taker of the level of James Ward-Prowse - dear Lawdy what a cracker for Saints at St.James' Park. Becks eat your heart out. Remember when we had Eriksen? He recently took one almost as good for Inter.
The BBC's Lawro predicts Tottenham will win 2:0.
So with nothing to lose except a failed manager getting the heave-ho let's enjoy the game and who knows we might even win. I'll be the first to applaud if we win every game for the rest of the season and Mouro is manager for life.
---
Premier action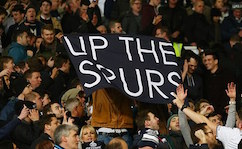 Zombified Spurs
Mouro's lost the dressing room
Feb 04, 2021 (Ssn 2020/21) with Rob Francis
Tottenham Hotspur 0
vs Blue Racists 1
Reactions: How much more of this dross can anyone stand? Once again, the best team did not lose. Even Southampton with only 9 players, whilst being utterly thrashed by Man United, showed more than we did. That's truly disastrous.
The Guardian writer captured the best word that describes the situation at Spurs so thanks to Barney Ronay for dropping the "z" word: "Jose Mourinho's rigid thinking brings zombified display from Tottenham" said the headline above the blog article which contained a paragraph in which he described the first half. Personally, I think it applied quite well to the 2nd half as well. OK, then, semi-zombified Spurs 2nd half display.
"Mourinho's really pushing his luck now. If we can't beat West Brom on the weekend, then we're in deep, deep ****." - PleaseNotPoll, not 606
The Special Dinosaur's days must be surely numbered. Caretaker manager to guide us to victory over West Brom?

"Tottenham have forgotten what to do when they have the ball.""

&nbsp&nbsp
Glenn Hoddle

Over the last ten league games our current form would leave us one place above the relegation zone and sinking like a stone.

And the football is abysmally dull with no supply line and no attack. Three consecutive losses. The players have been drained of any talent and desire.

Glenn Hoddle, Lilywhite legend: "Tottenham have forgotten what to do when they have the ball."

BBC Match tracker: "Toothless Tottenham." -- Clinton Morrison

This reminds me of when Leeds hired Brian Clough except Mouro lasted a bit longer before he became simply untenable.

MAN OF THE MATCH: Whomever is the new manager. Whomever is the new manager. Whomever is the new manager. Whomever is the new manager.
---
Premier action
"Sad" Spurs sunk
Spurs players "fighting sadness"

Brighton 1 [FULL TIME]
Tottenham Hotspur 0

US = Peacock. NBC Sports Hilites
Match: Brighton won their first home league match of the season. Admittedly they are very deep into their campaign but they always had the knowledge that as long as they nicked enough points away from home then come late January Tottenham Hotspur would be visiting to herald a revival of the Albion's home form. Bingo. Works every time.
That said: Tottenham perhaps on the rise? Under Poch, it was a 3:0 loss for Spurs and a month and a half later he was out the door. Losing to Brighton at the Amex is a bad omen for Tottenham managers.
Did "the better team" lose again? [Hint: "no"]. This time Jose said something about the Spurs players trying to fight their sadness when conceding a goal. That'll do it, gaffer. Brilliant! However, just a note about this club's fans [and many others]: their commitment to the club goes way beyond being "sad" when conceding a goal. For starters, how about doing something about it. Like not concede. Or scoring goals back? Even.... taking a lead and not losing it?
From the very start there was a creepy inevitability about the outcome. Brighton immediately asserted themselves, hit the post, and from those early seconds onwards the Seagulls were the only side going to win.
BBC Football: "lacklustre Tottenham", "sorry Spurs out of ideas".
Guardian match report: "The sight of Gareth Bale departing two-thirds of the way through after an ineffective display was dispiriting for anyone who hoped Mourinho has an off-the-shelf plan B and he needs to stumble upon something given the slim pickings offered here. The truth was Brighton could easily have won by more."
Mich Leigh fancam on WAT-TV.

MAN OF THE MATCH: Talented Frenchman Tanguy Ndombele worked hard. Several champions league clubs are circling. But like many in the squad, he's exhausted.
---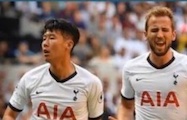 Spurs strike combo
Son & Kane
temporarily curtailed
as Harry injured
& off at half time

Prem league action
Sadly outclassed
Liverpool way better
Jan 28, 2021 (Ssn 2020/21) TV:NBCSN,Univ; Net:Fubo, Sling, Hulu


Tottenham Hotspur 1
Liverpool 3

Full-time reactions: Joe Lewis must be spinning in his mansion. Maybe Mourinho could give Burnley manager Sean Dyche a call for some future tips on how to play Liverpool.

James Redmond seemed happy following the game.

"For me the saddest thing is we are dire to watch. There's no fight. No attacking intent. Liverpool hadn't scored in hours of league football before tonight and guess what - they come and have a go and we just wilt, content to let them attack us over and over again. Jose got sacked for this sort of stuff at United." -- strangeboy, commenter on Guardian match report.

"Hojbjerg's goal was amazing. The slow mo shot of his goal from behind him was interesting. You can see how far the ball is away from him when he connects and yet he keeps the ball down. Fantastic goal. I wonder what he had to say to Klopp after the game." -- TaxmanCometh, commenter on Guardian match report. Possible Hojbjerg comment: 'If you're interested call my agent.'

Reaction 2nd Half: This time Mane makes no mistake, no complaints over the third goal this time, around 66th minute.

Didn't have much chance to stay in the game, Mane and Sala destroy Spurs for the third Pool "goal", but disallowed for handball. Yes Roberto Firmino handles it, but lucky the ref didn't give the goal based on Dier's manhandling.

Guess what, we didn't change. We're getting battered. O:2. Alexander Arnold. Our tactics are out of date and for a different type of team, different type of club. Hang about, we scored! Still in with a chance -- Hojbjerg keeps us in with a shout. Great goal. Really slammed it. 1:2. 15m quid of defiance and magic.

Reaction at Half time: Once again we see the serious downside of defending and trying to play on the counter. Sooner of later a side like Liverpool, if allowed to be constantly sweeping forward, will score. In fact they had at least four other chances like that. It's only a matter of time.

Thing is, if there's no effective threat on the counter, it's stressful to watch the inevitability of a goal being conceded by THFC. Riveting first half but, as said, stressful and ultimately disappointing.

Does Mouro have a plan B anywhere to be found for the 2nd half? We are a goal down, folks, we can't continue with the same failed tactic. And as a fan, there's only so long you can tolerate these Prem games going down the same road. We've done well in the knockout tournaments so far, but Tottenham's tactical performance in the league is way too predictable and fails to harness the talents we possess.

Preview: For us Tottenham Hotspur fans there's no way to overstate what a massive day this is. Tottenham Hotspur's current season pivots on today's outcome.

The game itself is still an empty canvas waiting to be created upon. In the battle of two sides [along with a handful of others] who could lay claim to the title of Premiership champions this is a fight that both sides need to win, not just because it's a six-pointer but also because both the Lilywhites and the Reds have dropped too many points already, there's little room for error from here on. Man City are the least inconsistent outfit in contention right now and on a serious unbeaten run in the league -- it's going to be hard to keep up with them. Meanwhile Leicester City are coming into form at the right time [as are West Ham and Arsenal of all people]. Even Chelsea, considered a flop so far this season, are only 3pts behind us, but we have two games in hand over them.

That said, even if we lose, and the odds and hype tilt towards the Reds of Merseyside, we've already established this fixture as being one of the biggest fixtures of recent seasons.

Neutrals love this match-up for THFC fans it can be stressful. "Wouldn't the country/world be a better place if nobody gave a toss who won, but just celebrated a great sporting event. Maybe I'm a dreamer..." But you're not the only one in the words of Liverpool's famous son John Lennon. Bob Bobson responds: "While I kind of like the idea it is wholly impractical unless you are a neutral. Competitive sport has always been partisan. It's nothing new."

Personally, being a long time fan of one of the two teams, I can't begin to describe the level of potential joy and pain in being partisan. I've always kinda admired a serial neutral's ability to appreciate a match on its own merits without attachment, but to me it's like chewing a stick of gum for two hours when the flavor has gone and it's just a rubber blob that's left. It's hard to see, or taste, the point. Supporting a team is the whole point.
Even if Spurs aren't playing, I'm usually able to pick a side in most footballing encounters. English, British, and many west European clubs come with degrees of either positive or negative baggage - and that added alignment always makes a game much more compelling to watch. But if it's not Spurs, the level of added flavor can never be anywhere near full strength.
Spurs supporter Chris Cowlin showcases opposition view
Spurs supporter Matt Hayes watch-a-long
Spurs supporter Tottenham fan TV expected line-up
The Darkside:
Red & White Kop forum
Mourinho on how Liverpool are getting it right both on & OFF the pitch
The Redmen
---

Spurs go deep
FA Cup Round 4: Wycombe 1 THFC 4

REACTIONS: For people tuning in halfway thru the second half it was a shocking scoreline of 1:1 and it stayed like that until around the 86th minute when the visiting manager Jose Mourinho's decision to bring on the big guns, to save a possible shock result, paid dividends to leave the plucky Chairboys devastated. That's when Harry Winks scored a peach of a goal and Ndombele followed up with a brace.
When a club can bring on subs like Kane, Son, Ndombele and Hojbjerg against a bottom of the table second tier side it shows the awesome imbalance in Cup matches like this. The cavalry of talent simply overwhelmed Wanderers.
It's a tribute to Wycombe that Spurs had to resort to such depth from the bench with the Londoners only a few days away from a massively important Prem fixture against Liverpool. Jose would have liked to avoid the risk, but when the year ends in 1 you gotta weigh and then play the options. He got it right for this one.
FA Cup 5th round draw
Everton vs SPURS
Manchester U. vs West Ham
Swansea vs Manchester C.
Barnsley vs Chelsea
Wolves vs Southampton
Leicester vs Brighton
Burnley vs Bournemouth/Crawley
Sheffield U. vs Bristol C.
PREVIEW: Wycombe Wanderers vs Spurs is live [from Adams Park] online in the US via ESPN+ and televised in the UK on BT Sport.
Some of the big stars currently at Tottenham Hotspur will obviously be rested with the crucial Liverpool league match coming up days later, so expect to see Erik Lamela, Gareth Bale and Carlos Vinicius continue as domestic cup demons instead of the likes of Son and Kane. Lo Celso, Aurier, Dele, Docherty are all likely out, either injured, sick, or other reasons.
So Tottenham are still in both domestic cups, a chance to win the Prem, and going strong in Europa, and legend decrees that "when the year ends in 1", with the help of Lady Luck, the club is destined to win a trophy.
If Spurs win this match they'll play Everton next who swept aside their fourth round opponents on Sunday. Those opponents were strife-torn Sheffield Wednesday who [at the time of writing] sit 2nd to bottom of the Championship [England's 2nd tier] with only Wycombe below.
"Second-string Spurs to ease past struggling Chairboys" opines Betfair: "If Wycombe line-up weaker than their usual starting XI against a strong Tottenham side then expect to see the away team scoring three or four goals quite easily."
Wanderers are hurtling out of the Championship and it's likely they will indeed rest players to try to stave off relegation even though their predicament looks hopeless.
---
Prem league action
Spurs blunt Blades
Lilywhites superbly seal the win



Sun, Jan 17, 2021 (Ssn 2020/21)
Sheffield United 1
Tottenham Hotspur 3
Bramall Lane, Sheffield, Yorks. Highlights
US live: TV = NBCSN; Net = fuboTV, Sling, Hulu.