Spurs 2023-2024 Season


Next up
Luton away


Aug 19: Manchester U. (h) 2:0 win
Aug 26: Bournemouth (a) 2:0 win
Aug 29: Fulham (a) 1:1 exit Lg/Cup
Sep 02: Burnley (a) 2:5 win
Sep 16: Sheffield U. (h) 2:1 win
Sep 24: Arsenal (a) 2:2
Sep 30: Liverpool (h) 2:1 win
Oct 07: Luton (a) Prem


World Soccer Talk viewing schedule of Prem matches on US TV and online
World Soccer Talk schedule of Spurs matches on US TV and online
Soccerway fixture list for Tottenham Hotspur
NBC sports youtube channel highlights
premier league highlights
---
Tottenham Hotlinks & Football links
Supporter sites, forums, podcasts
BBC football & BBC tottenham hotspur, BBC women's football incl. spurs women
Guardian football and football weekly podcast
the extra inch podcast
LA Spurs los angeles
Alasdair gold of [football.london] new channel for spurs; gold twitter
Last word spurs podcast with ricky sacks, lee mcQueen, LWOS u-tube
Chris cowlin, tottenham fan

Spurstalkshow spurs talk show
Tottenham away new link 2023
Spurs odyssey by longtime loyal lilywhite
Tottenham on tour podcast + utube
The spurs show podcast
Glory glory forum
not 606 spurs forum
Spurs community chat
Who scored Tottenham page
Marine FC play Tottenham in the FA Cup
the hotspur podcast became sporadic, then disappeared, now back, but always a worthwhile listen
Spurs fan on safe standing at games
TV & radio
BBC radio five live homepage, audio, bbc sport podcasts
TuneIn to Talksport to avoid tedious registering
General footie
Out of context footy
Football terrace
FNG
At a glance premier league fixtures and results
Tifo football
footy adventures
ESPN FC podcast, u-tube US, u-tube UK, in USA get ESPN+ online
Total soccer show podcast
Premier league injury table

football grounds guide great ground and stadium site, updated link as of 2017
QPR fan james with spurs fan flav
Smiv happens to be a spurs fan
Atmospheric derby in glasgow
---
Misc.
David ginola scores
Al Jazeera net losses
theme music of bbc football league show circa 2015/6
Swiss ramble the biz of football
Voices of london
is the NLD still a true derby?
soccernomics blog, @sszy
Links updated & added periodically
---
Nine? Danke, Jurgen!
Last gasp winner
Sept 30, 2023 (Ssn 2023/24)
US TV & Online: USA, Fubo, DirecTV stream, Sling B.



Tottenham Hotspur 2
Liverpool 1

Reactions: Check back for the reactions to yet another milestone in this truly magical early era of Ange Postecoglou's tenure at the helm of our favorite club.

Meanwhile it's time say "Danke Shon" to Jurgen for allowing us to play against only nine opponents as Liverpool's German manager held his head in his hands uttering "Nein Danke, Gott in Himmel". Liverpool looked a damn good team until that happened, and still were only seconds from salvaging something, but it speaks volumes about how radically improved this Spurs side is since the arrival of our cult inducing Australian manager.

Second Half: Incredible finale as Liverpool get a second player sent off and a chance to improve THFC's awful recent record against the red half of Merseyside. But not until the final seconds did Spurs get that two man advantage to pay dividends - Matip couldn't control a Porro center causing the ball to bounce into the visitors' net. But with the relentless waves of Spurs pressure there was always a higher chance of that kind of defensive glitch. Yeah, not a pretty goal but definitely a glorious conclusion, wildly celebrated by Tottenham fans worldwide.

Half time: A goal apiece. Second half in play. Reds down a player.

First Half: Shock. Liverpool equalize. Mind the Gakpo.

Maddison to Richarlison to Son - bingo! Spurs one man and one goal up. "Nice one Sonny, let's 'ave another one". Spurs go marching into the half time interval ahead (or so we thought, until.... -- Ed.)

Liverpool down to ten men. Diabolical studs up foul (midfielder Curtiss Jones) could have broken Bissouma's leg.

Pre-match: In the corresponding fixture last season Spurs lost 1:2. Kane & Spurs got a goal back after going two down to two Mohamed Salah goals but it was not enough.

Apart from the result, the THFC event of the day was seeing Kulu back from injury, on as a sub, and showing the difference that can happen with him on. However the now typical Tottenham rally, after the usual first half indifference, wasn't quite good enough this time, albeit close.

Both sides showed potential last season, but failed to show it on consistent basis and so neither side was ultimately among the elite best.

In the most recent league encounter, back in April '23, a seven goal thriller saw Liverpool go three goals ahead. Spurs pulled three back, but the Anfield side nabbed a very late winner. The last two goals came in stoppage time. 100% entertainment but not the right result for us.

Neither club ended up anywhere near as impressive as last season's top two performers, champs Man City and runners-up Arsenal, but both were among the best of the rest. Liverpool finished strong with three consecutive wins to land 5th place, Spurs had a somewhat below par run-in leaving them in 8th place with seven points separating the two.

The Darkside:

Red & White Kop

The Redmen: Klopp pre-match interview
---
League Match (Ssn 2023/24)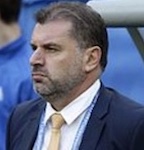 Ange meets
toughest test
of career


Moral victory
Ange & Spurs go on
Arsenal 2
Tottenham Hotspur 2
Final score. by Rob Francis

Chris Cowlin Spurs chat reactions.

WATTV in ground reaction.

Match report Guardian.

Match report BBC Football.

A worldwide audience witnessed the unfolding miracle of Team Tottenham reborn under the guidance of Ange Postecoglou the Australian wonder coach.

"Even at the embryonic stage in our rebuild, we were not embarrassed away by the team the finished 2nd last year. We are in a good place. The future is very bright if we get further right players in." -- NA, poster, Tottenham Away.

2nd half. Nice one Son. Heung-min equalizes, notching a brace, seconds after Arsenal retook the lead with a penalty for a Romero handball. Amazing. THFC level again. Come on you Spurs.
Pre-match Ange Postecoglou BBC interview with Spur legend Gary Lineker.
Following Arsenal away is Liverpool at home. Following Arsenal away is Liverpool at home. Following Arsenal away is Liverpool at home. Following Arsenal away is Liverpool at home.
Following Arsenal away is Liverpool at home. Following Arsenal away is Liverpool at home. Following Arsenal away is Liverpool at home. Following Arsenal away is Liverpool at home.
---
League match
Richarlison
He's baaack!



September 16, 2023
Tottenham Hotspur 2
Sheffield Utd 1
Result
Climax: Oh wow, the dynamic finish did materialize, big time, in the surprising form of Richarlison and then Kulu to top it off, both deep into injury time - Kulu's winner ten minutes into stoppage. The Lane goes utterly beserk.
"We also shouldn't forget about Perisic! After 14 corners or so it was his corner that allowed our breakthrough!" -- AlejandroRisin, WATTV viewer.
LWOS post match.
Earlier: Is the honeymoon over? Hope not. Spurs were all over the visitors but couldn't produce the dynamic finish that the Blades were able to conjure up.
---
League match
Spurs rampant
Blockbuster 2nd half



September 2, 2023
Burnley 2
Tottenham Hotspur 5
Final result. NBC highlights
Reactions. Cristian Romero's superbly struck strike near the end of the first half ensures a halftime lead for Tottenham Hotspur having gone a goal down earlier. Son Hueng-Min the scorer of a superb Spurs equalizer.
Spurs score a brilliant third (the amazing Maddison), and then came a fourth and fifth goal both by Son to bag an impressive hat trick. Burnley don't give up and get a consolation second goal before the final whistle. More reactions as the weekend unfolds.
---
League match
Impressive
Reactions


Spurs seem
restored

Bournemouth 0
highlights, longer NBC USA clip.

Reactions: The first reaction I had, watching, even from the get go against Brentford, but even more so since United and Cherries, is how rapidly the Tottenham Hotspur players have absorbed the way our new manager wants his team to play football, and how rapidly they've individually and collectively put it into practice.

In that process most of the players seem rejuvenated. Like someone gave them a discernable plan, a blueprint, for how to be better players playing for a more successful team which is way more enjoyable to play for and, for us, to watch and wonder.

Nobody is saying it's a done deal, but the dramatic rapidity of the change and the fact that mostly it has worked wonders, when with such a seemingly risky style you could expect big time teething trouble for quite some time before it would even begin to look right, and yet, it started taking shape right out of the box!

It's the most remarkable phenomenon I've actually ever experienced in football as a supporter, and I'm definitely in for the ride, as we all are. Still almost spinning from this season so far. -- Rob Francis

LWOS reacts.

Chris Cowlin reacts.

Madison ran the show says WATTV.

BBC Football's Matthew Howarth.

Back of the Net says Spurs won with ease.

Vital football Up the Cherries forum.

Bournemouth YT Cherries Red Army view of where they are at.

More reactions on the way.
---
Between now and Cherries
Classic response to the BBC Five Live radio host and guests by David Statman: "I don't have a personal life to get anything wrong in it."
---
Premier league action
Spurs March On
Dramatic start to Postecoglou era



Aug 19, 2023
Tottenham Hotspur 2
Manchester United 0
@ TH Stadium, London. Final result.
2nd half: In early 2nd half, Pape Matar Sarr gets the goal in the 50th minute, assist by Kulu (technically a rebound). Then an own goal nearer the end (technically) but credit to Ben Davies.
Woh - starting early in 2nd half we get, for the first time in this brand new season, a truly breathtaking taste of what Ange Postecoglou's vision can conjure up when it materializes as planned. At the same time, we can also see the inevitable risk of this style with United missing several golden chances. Never a dull moment, for better or worse!
Once the lads got the hang of it, and that took about a game and a half -- it was not a gradual but a sudden transformation -- almost incredible. As the commentator remarked, now they're enjoying themselves.
As usual, the premier league money men are furious and have given United an extra 9+ minutes or so to try to bounce back. They failed.
The Mirror: "A comprehensive United defeat by a vibrant Spurs", "Spurs adapting without Kane."
Prescient pre-2nd half comment: "I genuinely think we have the makings of a great team over the next season or two. The only barrier to that are unrealistic, impatient, impulsive, fans that can't provide ever-increasing encouragement and enthusiasm. Yes Levy can sign us a gem or two. But great coaching, great man management, great spirit and great leadership far exceed all that. Ange is what this club has been looking for. What the true fans have been looking for. This season is about building solid foundations and injecting some fun and flair back into our game. Give the players time to bed in. They're still suffering some PTSD from Conte etc. Get behind them and give them confidence." -- the hipster, Spurs Community.
Soccerway: Tottenham Hotspur failed to win in their previous 5 home matches in a row against Manchester United.
---
League match
Grippin' stuff
Ange makes a point



Aug 13, 2023 (Ssn 2023/4)
Brentford 2
Tottenham Hotspur 2
Brentford stadium, London
Full time
Rob Francis' Instant Reaction: Well I haven't been glued like this to a Spurs game for a while but this was a fascinating, unnerving, exciting rollercoaster ride - just as I'd imagined it might be. Not for the faint hearted, but never boring like some managers served up in the recent past.
The concept is beguiling, it obviously needs work, and do we have the right players for this? Ange hasn't managed in the Prem before and it could get a lot more stressful than this. As I hinted: strong constitution required even just as a spectator. We're not used to this lifestyle!
But like a book you can't put down, I'm not missing a second of this, having absolutely no idea where, on the spectrum of success, this will ultimately land. But there'll be plenty of opinionated people more than willing to chime in.... so we'll see what they say.
TMGSPurs, commenter on the Guardian match report. "I feel I woke up from a 3-4 yr nightmare. Finally, Spurs are playing football. Properly.
"We have lots to improve on but, after a long time, I don't feel like smashing my TV to bits.
"Ironic that Kane has left just as we have a team set up to serve him. No coincidence that he scored 4 in his last game for us. Richarlison is a hard worker but not fit to lace his boots - first touch is poor (startling for a Brazilian no. 9) and his passing isn't great. We do need a top class centre forward, maybe someone like Vlahovic since Juve need the cash.
"Not sure our system is suited to Son and Deki - they usually cut inside and do most damage. With our full backs moving inside, they seem to have been instructed to keep wide as much as possible. Wonder if Son won't be better suited to playing up front, esp against teams which sit back.
"Would have liked to see Lo Celso instead of Sarr but can't complain overall.
"Ange is a good appointment. After all your fuck-ups, Mr Levy, you got one thing right."
Pre match: Harry Kane's move to Bayern is imminent as the Ange Postecoglou era begins.
Adoring fans from the world over who had travelled to a pre-season Spurs visit in Thailand were treating him like a savior, or indeed the Buddha himself reincarnated!
It would be nice to erase memories of what was, towards the end of the season, a diabolical falling away despite the big win over Leeds in our Premier league's farewell fixture of 2022/3.
The Spur wrote at the end of the last campaign: "The off season should prove more entertaining than most of what's gone on before. This club needs work. It's become famous recently for the very reason that it's not working."
Let's just hope we rise to the occasion on this opener against a fellow capital club we struggled against last term. That said, of course the new Australian manager will have much still to do to make Spurs hot again, it's not an overnight project, to state it mildly.
It is incredible how time has flown and to realize the new season has already begun! Here we go. London derby.
Reactions incoming... Check back for links to the reactions on the internet and beyond.
---