Spurs 2021-2022 Season Run in
May 22: Norwich (a) won 0:5

Chelsea away
next Sunday
That's it for last season as we welcome in the new season.
Spurs 2022-2023 Season
Aug 06: Southampton (h) won 4:1 Week1 Hilites
Aug 14: Chelsea (a) Prem US live: USA, Fubo etc
Aug 20: Wolves (h) Prem
Aug 28: Nottingham F. (a) Prem
Aug 31: West Ham (h) Prem
Sept 03: Fulham (h) Prem
Sept 10: Manchester C. (a) Prem

World Soccer Talk viewing schedule of Prem matches on US TV and online
World Soccer Talk schedule of Spurs matches on US TV and online
Soccerway fixture list for Tottenham Hotspur
NBC sports youtube channel highlights
premier league highlights
---
Tottenham Hotlinks & Football links
Supporter sites, forums, podcasts
BBC football & BBC tottenham hotspur, BBC women's football incl. spurs women
Guardian football and football weekly podcast
LA Spurs los angeles
Alasdair gold of [football.london] new channel for spurs; gold twitter
Last word spurs podcast with ricky sacks, LWOS u-tube
Chris cowlin, tottenham supporter

Spurs odyssey by longtime loyal lilywhite
Tottenham on tour podcast + utube
The spurs show podcast
Glory glory forum
not 606 spurs forum
Spurs community chat
Who scored Tottenham page
Marine FC play Tottenham in the FA Cup
the hotspur podcast became sporadic, then disappeared, now back, but always a worthwhile listen
Spurs fan on safe standing at games
TV & radio
BBC radio five live homepage, audio, bbc sport podcasts
TuneIn to Talksport to avoid tedious registering
General footie
Out of context footy
At a glance premier league fixtures and results
Tifo football
footy adventures
ESPN FC podcast, u-tube US, u-tube UK, in USA get ESPN+ online
Total soccer show podcast
Premier league injury table

football grounds guide great ground and stadium site, updated link as of 2017
QPR fan james with spurs fan flav
Smiv happens to be a spurs fan
Chelsea finally rejects its fans
Britain's most atmospheric derby is in glasgow
USL Championship
Home at last
Organized Union & a moment of magic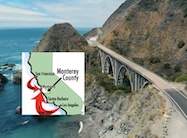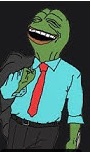 May 07, 2022. USA: ESPN+
Monterey Bay 1
Las Vegas 0
Highlights

Reaction: Life isn't always like this - the dream scenario played out according to the script. Monterey Bay FC, playing their first home game in their history, won the match with a spectacular goal and a team performance that was in massively welcome contrast to the mostly abject losses suffered exclusively on the road while the home stadium was being feverishly prepared, up to and including the actual day of play.

It's a home debut the 6,000+ fans will remember as long as this team exists, and may it inspire the club to live and flourish for generations to come. Of course, in the world of US soccer club sides, especially below the top tier level, longevity is an elusive goal, but this match and its result will surely go a long way to avoiding any early demise.

One thing's for sure, the crowd got behind the Union and it warmed them up as a brisk onshore breeze made us appreciate the importance of layered clothing needed for evenings on this part of the central California coast. Carmel's famous beach down the road may be gorgeously warm and sheltered, but the city of Seaside California ain't Seaside Florida.

So many of the things wrong about the club's prior performances, all on the road up 'til now, seemed to have been ironed out as the side played with with a purpose and cohesion that simply wasn't evident on their travels. Las Vegas met their match, and it was great to see, beyond the brilliant goal itself, the way that the home side foiled every attempt by the lively opponents to shake Monterey Bay's net.

From the get go Monterey took the game to Las Vegas but also mostly kept their defensive shape. Later, when Vegas realized they needed to throw the kitchen sink, the tide did change but the Union stayed firm with the home keeper rising to the occasion when called upon.

Many moons later in the season: when you the put the team on your back, and MBFC have found that unbeaten, winning even, mentality.

Preview: It's the beginning of a brand new football club in glorious California. At the time of writing this preview Monterey Bay finally won some league points. After two losses they turned it around with a dramatic hard fought away win at the Oakland Roots.
---
Misc.
The scam that landed Sven in north korea
dannyT radio 'give us a T'
Al Jazeera net losses
theme music of bbc football league show circa 2015/6
Swiss ramble the biz of football
Voices of london
is the NLD still a true derby?
soccernomics blog, @sszy
Check back, links updated & added regularly
---
Mexican club violence
Update on this infamous match: the punishments have been severe including home fans banned for a year and the forced sale of the club, among a shopping list of mind-warping repercussions as Mexican authorities basically tells the world: "Dudes. We want to still co-host the 2026 world cup. Look what we're doing to stamp this out."
"It's what you want to see. The commentators also have to take the blame when they exalt the teams [tribes] that they get paid to publicize." -- Valentin Esquivel, You-tube viewer.
This is the ground zero from which they are working, as reported by the Sporting News: "It's notable that the Queretaro State Police posted a tweet during the match in which they confirmed their presence at the stadium and noted (translated from Spanish) that the first half is taking place in a tranquil environment and with a good atmosphere in the stands." No worries then, safe in the knowledge that the action women security team [seriously] would hold the fort. Cheque's in the mail, 'n all that.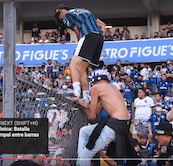 Original article: It was weird watching the terrace battle [albeit across actual seats and then the pitch] as Queretaro fans tried to overrun an elevated away section to throw whatever objects came to hand at the visiting Atlas supporters, some of whom returned the favor. Elswhere running battles appeared to take place with what looked like targeted attacks to clear out any away visitors, ultimately the match itself was abandoned. Many in the away and mixed sections poured onto the pitch to escape the onslaught.
It was like a flashback to the 70's and 80's in Britain and elsewhere in Europe and strangely out of synch so many decades later. It would only take a few street level investigators to immerse into the culture of the hooligan brigades to suss out when something like this was brewing and therefore allow authorities to take [at least] proper security measures. Instead, nobody can or wants to get their act together. The opposite. One or more security guards allegedly unlocked a fence gate to allow the blue bedecked hoard to swarm out of their pen towards the Atlas loyalists.
As the Guardian points out, this must raise the question of whether Mexico is capable or deserving of co-hosting an upcoming World Cup.
---
League season 2022/2023
Spurs cruisin'
What a season start, Spurs!


Aug 06, 2022. Live US TV/Online: Peacock
Tottenham Hotspur 4
Southampton 1
Tot/Hot stadium; US Hilites

Football terrace reacts

LWOS post-match w/lee, tapintobs, crackers & host @rickysacks

Football daily for sat, aug 6th.

TOTTENHAM HOTSPUR Line-up: Lloris; Romero, Dier, Davies, Royal, Bentancur, Hojbjerg, Sessegnon, Kulusevski, Son, Kane.

Post match: Elation throughout the THFC community. It's almost scary the adulation [deserved!] because, of course, the first "next level" test comes at Stamford bridge on Sunday. Chelsea got the win at Everton in one the most turgid prem matches ever played but despite that, the hated blue meanies got the three away points, no matter how ugly, and it was.

It's great to witness our beloved Lilywhites outclassing a Saints side that oufoxed us on our patch last time, to see the new players fitting in so rapidly, and the existing players step up to a new level - and it seems we've only just begun. Plus, it's not just Harry and Son plus supporting cast. It was a team result and the vibes are very very good. But next up... the big test.

First half: Back in February in the corresponding fixture it didn't end well. In a thrilling match Tottenham Hotspur ended up being pipped 2:3.

So it seemed like deja vu when a James Ward-Prowse volley punctured Tottenham Hotspur's goal in this encounter [the same player that assisted twice for Saints in the February loss]. But although the London side trailed at the 13th min Ryan Sessegnon equalizes minutes later, headed in from Kulu's cross, soon followed by another quality cross, this time from Son, as Dier heads the ball to give the Lilywhites the edge. 2:1 to the Tott'nm.

Credit to Spurs who rallied superbly after what seemed like a disastrous start. The fear was that Southampton would stymie Spurs and hold the lead, but THFC created numerous opportunities as the first half unfolded. Great to see how, after a few wobbly minutes both before and after the visitor's opening goal, the Lilywhites showed their class and cohesion. Now, can we consolidate in the second half?

Second half: On we go with the second half.

Then it all goes ballistic as Tottenham surge into a 4:1 lead - an own goal by the Saints' Mo Salisu, followed rapidly by a fourth THFC goal, this time by Kulu. Royal Emerson, playing so well, and now boasting two assists, when on comes new Spurs star-to-be Ivan Perisic replacing Ryan Sessegnon who in turn gets big applause. Looks like the untouchable Kulu is on the way to getting man of the match at this rate, but Bentancur a close second.

Spurs see out the game in style to serve us up with a sensational start to the season. Superb. Very impressive.
---
League match



Epic day for Spurs
Kulu for #3 & Son brace
Spurs are in the champs league
May 22, 2022 (Ssn 2021/2) RESULT
Norwich City 0
Tottenham Hotspur 5
LWOS panel reacts and looks ahead.
NBC extended highlights.
Post match with Irish Hotspur.
Second Half ended: Son vs Sala in full swing - beaut of a brace for Son, but then Sala gets one for Liverpool. They're tied - sharing one golden boot each. Inflation!
Clubwise, it went to the wire but the title goes to Manchester City while Burnley are saddled with the last relegation spot - but decided, in effect, much earlier is that SPURS triumphed over Arsenal in the quest for 4th place and endless future success for the Lilywhites, with a likely downward plunge for has-been Arsenal who'll be travelling Sleazyjet to the likes of windswept rain soaked Qarabag FC for their insignificant games.
Heung-min Son's quest for the golden boot continues as Kane unselfishly lays on to Moura who feeds the Son goal. Let's have another one, Son.
No one bends it like Kulu, what a goal, Spurs 3 up.
Son's colleagues trying hard to set him up with the golden boot but so far no dice.
Fun scores as the second half unfolds for all the games: Palace 1 Man Utd 0, Man City 0 Villa 1, Arsenal 4 Everton 1, Liverpool 1-1 home to Wolves. Burnley looking doomed to go down, they're losing, Leeds are winning. Still plenty of time to go.
The tension of the first half has translated into consolidation so far in the second half. Spurs are happy to play "neutral ball" with the hosts.
First Half: Goalkeeping error sets up the second Spurs goal gratefully banged in by Harry Kane. The pendulum is heavily weighting towards THFC and not Arsenal getting 4th place and the substantial rosy rewards implied - a draw enough for the Lilywhites even if Arsenal win.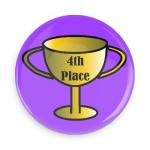 Kulu assisted by the unselfish cutback from Bentancur and it's the goal that the globe was looking for. It's one nil to the Tottenham as the Canaries' offside trap was sprung like a leaking mains pipe.
Preview: It's hard to overstate the existential importance of this match to Tottenham Hotspur's future. We simply must do it. We've got the manager, we've got the superstars up front, we've signed great players, it can all come together with a Champions league place, it could all unravel if not. And we're so so close to achieving it, and it's ours to reach out and grab, it's all on the line, it's ll down to this one final game of the season.
Just one point, lads, that's all we need. We cannot count on Arsenal not winning. Props to Everton for staying up but if Arsenal get themselves halfway back together from their meltdown since losing to THFC, they are potentially a way better side than the Toffees and desperate to leave their awful home crowd with a consolation prize.
We beat the Canaries in the home fixture for this season, and though Norwich were convincingly beaten in the end, it was not even close to being a pushover. Since then we now the Norfolk side actually couldn't avoid the drop, and based on their game against us it was in large part because: they couldn't finish.
Meanwhile, the Lilywhites are faves to win the coveted top four spot, a Euro champs league place agonizingly close - it's in our hands - and close to restoration as the undisputed Kings of north London over Arsenal. The Spur's reaction to that home win over Norwich included the view that "top #4, as usual, is the realistically attainable target - as it has been many times during our better seasons in recent history."
Ed Aarons of The Guardian said of that reverse result: "A solid if unspectacular victory over bottom side Norwich". Trust me, if needed, we will take that outcome for a second time.
Random preview links, match threads, etc, below [more as always in the left column].
Football London build-up items including the spectre of another food poisoning [or whatever it was/is this time] scare.
Match thread on the Glory Glory forum.
Predicted line-up from We Are Tottenham TV.
Check back for reactions during and after the match. Check back for reactions during and after the match. Check back for reactions during and after the match. Check back for reactions during and after the match.
---
The Run-in: Stars align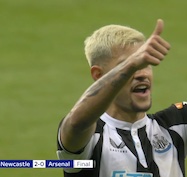 Newcastle 2 Goons 0!
Six mins of injury time are over. Full time. The stars are aligning it seems in favor of super Spurs, as well as their own skill of course, with the latest lurch of the pendulum towards titanic Tottenham's quest to nab that Euro champs league spot with Newcastle winning by TWO at home to Arsenal. Lovely goals. The 2nd went in and everyone everywhere went beserk with joy. Also bad for the visitors, originally from the Woolwich area of SE London, is to sustain two more potentially debilitating injuries at St James' Park. Can the Geordies take this lead to fruition? Yes.
Spurs now need to get at least a draw at Carrow Road. It's in our own hands. Even if Spurs lose, Arsenal would still have to win against Everton [them beating the Toffees is very likely however as, though I want them to stay up, the Merseyside club's current team is pretty bad. Great fans though]. So we gotta do the biz at Norwich.
At the time of writing the bookies are giving Spurs a 96% chance of nabbing the remaining Euro Champions league spot, with Arsenal amassing a 4% chance. This is no time to get Spursy!
Irish Hotspur channel reactions.
Bobspur channel reactions.
Football Terrace channel reactions.
Watch out Real Madrid, Man City, Liverpool - we're coming for the quadruple and far beyond!
---
Spurs 1:0 Burnley
Must win vs Norwich, AFC must falter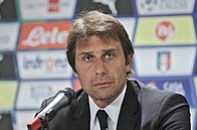 In Conte we dare to do

May 15, 2022
Tottenham Hotspur 1
Burnley 0
by Ree Porter
US TV: USA. Net: Fubo, DirecTV, SlingB

Reactions: Burnley made it tough for Tottenham to break them down and, like the hosts, they had some gilt edged chances to put a few away, but ultimately it was a poor decision by a Burnley defender to handball, and a penalty to the home side, scored of course by Harry Kane, that made the difference. Now we just need to beat Norwich and that's all we can do other than go beserk with joy if Arsenal flounder against one or both of their remaining opponents.

Preview: Check back for more reactions from around the Net and beyond following the Tottenham Hotspur victory over Burnley. Check back for more reactions from around the Net and beyond following the Tottenham Hotspur victory over Burnley. Check back for more reactions from around the Net and beyond following the Tottenham Hotspur victory over Burnley.

Check back for more reactions from around the Net and beyond following the Tottenham Hotspur victory over Burnley. Check back for more reactions from around the Net and beyond following the Tottenham Hotspur victory over Burnley. Check back for more reactions from around the Net and beyond following the Tottenham Hotspur victory over Burnley.
---
Premier league


Spurs Gods
Spurs cool as cucumbers, Arse panic


Tottenham Hotspur 3
Arsenal 0 [Full Time]
May 12, 2022 (Ssn 2021/22)
by BoneSpurs
Reactions: It was a comprehensive win for Tottenham Hotspur. Arsenal got a player sent off but that's because they were getting outplayed and desperate, and made things increasingly worse for themselves. Spurs kept their cool, managed the play better, and were mentally stronger.
Tottenham fan vlogs reaction.
Korean fan vlog reaction.
"Son Leaves Arsenal Holding On" is the title of a reaction from James Lawrence Allcott. More reactions on the way.
Second half: Three goals up and half an hour remaining I can finally actually relax and enjoy the "ole's" of the ecstatic crowd. The NL is usually a stressful experience but this one we are throughly enjoying. [You're really tempting fate, Boner! -- Ed]
Harry gets the ball in the penalty area and it ricochets back to Son who finds the far corner with a classic Sonny strike. Bloody brilliant - we are three up and romping.
First half: Harry gets his brace. Son Heung-min's corner kick reaches the head of emerging future Spur cult hero Rodrigo Bentancur who in turn flicks on to the far post where Harry Kane's pointblank header guides it into the Paxton goal for numero dos. Get in there my sons! Wowza, Spurs rising to the occasion big time so far.
Rabid Rob Holding seems to be trying to permanently cripple Heung-min Son and finally the ref actually does something, yellow card, twice. Off goes the dirtiest player since Granit Xhaka. Both Arsenal of course. Horrible players.
Kane converts the penalty [the foul by Cedric] as only Harry can do. Long time to go, but it helps a lot to have that one in the bag, to state it mildly.
Pre-match: An especially critical NL Derby this time around. Tottenham Hotspur are doomed if they lose, and realistically must win to stay in the running for Top 4 and the Euro champs league.
Tapintobs preview.
BBC Football preview.
WATTV predicted line-up.
Please check back for build-up, in-match reaction, post-match celebration [or not] and much more. >Please check back for build-up, inmatch reaction, post-match celebration [or not] and much more. Please check back for build-up, inmatch reaction, post-match celebration [or not] and much more. >Please check back for build-up, inmatch reaction, post-match celebration [or not] and much more.
---
Brave Spurs
THFC score, then limit onslaught
May 07, 2022 (Ssn 2021/22) US TV: USA chan. Net: fubo, DirecTV, SlingB



Liverpool 1
Tottenham H. 1 [FULLTIME]

Reactions: Reactions on the way as the night and Sunday unfolds. Desperate and often excellent defending by Spurs ultimately couldn't keep Liverpool from equalizing from a Diaz deflection off Bentancur.

Tottenham woulda loved those juicy two extra points, but Spurs drew home and away with 'Pool in the league this season and did even better against the other title contenders Manchester City - winning both - gotta respect that, big time.

Match: Desperate and often excellent defending by Spurs ultimately couldn't keep Liverpool equalizing from a deflection off Bentancur.

Brilliant trio of Kane, unselfish provider Sessegnon, and Heung-min Son combine to allow the South Korean wonder striker to blast home to give Spurs the lead. Amazing.

Preview: This could hardly be a tougher assignment for the Lilywhites where obviously every result is hugely critical and this clash, along with Arsenal's visit to our place next week, will ultimately determine which of us two north London clubs gets to play in Europe's top tier club competition and all the advantages that bestows on the 4th place victor, not least of which the ability to attract the top playing talent when available.

Liverpool are fighting Manchester City for the Premier league title so they won't be shy about going for the jugular.

In the reverse fixture played in December at the Tottenham Hotspur Stadium the game ended in a 2:2 draw with The Spur's headline "10 man Liverpool cling on", the reaction going on to say that "it's no wonder why everyone is bullish on Spurs under Antonio Conte, even under the toughest circumstances."

Liverpool had a man red carded but "The Londoners couldn't take advantage of the extra man for about the last 18 mins including a long stoppage time, yet it was certainly less stressful for the more anxious among us to have that advantage."

"THFC showed confidence against visitors oozing with talent." It was one of the most absorbing battles of this league season and one that one that provided a platform from which Tottenham could build for the rest of the season.

Build-up links prior to this massive match:

Spurs supporter Chris Cowlin preview.

We are Tottenham TV line-up and preview.

The Darkside:

Red & White Kop

The Redmen
---
League match
Harry & Son
Harry nets in 1st half, Son in 2nd

Sun, May 01, 2022 @ 6am Pac/USA (Ssn 20021/22)
Tottenham Hotspur 3
Leicester City 1
6am USA/Pacific. US Net: Peacock [NBC stream]

Second half: Heung-min Son outdoes even his previous goal with Tottenham's third and another assist for Kulu - Leicester get one back in stoppage time, and that will do it. Now to watch Arsenal lose.

Here we go again. Oh wow - Kulu [on for Moura] feeds Heung-min Son and the south Korean international swivels to send the ball between two visiting defenders to make it an impressive, and desperately yearned for by us fans, second Spurs goal.

Half Time: The dynamic duo Son and Kane combine as so many times before and the goal drought is over for Spurs courtesy of a set piece, Harry's header his 13th league goal of the league season.

First half: 39th min Daka so close as the sense is Leicester really want this, not looking distracted by their crucial Euro trip to AC Roma on Thursday.

Around the 32min Harry Kane finds himself one on one withe City keeper but Kasper Schmeichel quick to deflect.

Harry Kane heads home a Son Heung-min corner and, as often, Harry loves scoring against the Foxes.

Strong defending by Romero foils Albrighton.

Daka on target but somehow Lloris turns it onto the post and vulnerable gaps evident in what was a decent THFC defensive display when required in the first 13 minutes or so.

Early doors. As usual between these sides they're both going for it, so it's not cagey, it's end to end, and Leicester the more proactive.

Preview: The battle to beat Arsenal to 4th spot continues as Antonio Conte responds to stories of him courting PSG as "fake news".

The injury problems have built up ar Tottenham Hotspur at the worst possible time of the season and it hurts to not have Matt Doherty, Sergio Reguilon and Oliver Skipp, with Tanganga also still out. The club will have to dig deep and some unfamiliar names could be in the line-up to those who only follow the regular star players.

The big advantage the London side has is that the Foxes are in the midst of two weekday Europa Conference semi-final legs and each of those takes its physical toll [1:1 home leg played on Thurs], but also Leicester's Euro opponents Roma should be much more on their minds than this visit to N17 if the Foxes are to play in Europe again next season.

Then Lilywhites right now can't get a shot on frame as we saw against Brentford ad Brighton but somehow it seems that this one could hearld the welcome return of that previous rampaging THFC form that delighted their fans before everything came to a grinding halt.

More build-up, match reactions, and post game partying to follow.
---
Poch set for Spurs return?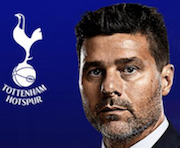 With Antonio Conte openly serenading PSG to activate his release clause away from Tottenham Mark Goldbridge is one of many who point out that if Conte spurns Spurs then their next best option would be the return of Pochettino. It seems highly likely if we're honest, especially as Daniel Levy is allegedly preparing the navy blue carpet to be rolled out for the former Argentine manager of Spurs to return in glory in what is unfolding to be the Second Coming of Mauricio.
Problem is, will Harry Kane be in Conte's wake as they both swan over to Paris to swim in untold riches as PSG attempt to lure their disdainful fans back into the fold? They won the French league only to have the crowd walk out on them! They'll only come back when PSG make a credible effort to win the Champions league... let's rephrase that: They'll only come back when PSG WIN the Champions league [winning Ligue 1 should be a given], or else they'll stick to watching France rugby [presumably] whilst tossing gold plated toys out of their perambulators.
---
League match
Missing in action
Spurs hopes of Top 4 stung



April 23, 2022 (Ssn 2021/22)
Brentford 0
Tottenham Hotspur 0
Community stadium, London
US live TV: NBC. Stream: Fubo, Peacock etc.
Reactions: Watching Spurs these last two games has been an unedifying, exasperating -- an almost endless endurance test.
The only winner was Christian Eriksen who was given a standing ovation by the entire stadium and was clearly moved by the experience of Tottenham's appearance at his current English home of Brentford FC.
When you look at Arsenal dismantling ManUre and Chelsea, while Spurs barely eked out a point against Brighton and Brentford, it's dispiriting. True, the Bees are better than United at the minute, but it's just hard to see where a win, or where a goal, is going to come from.
Down the flanks is a lost cause, thru the middle goes nowhere, and there's acres of space for the opponents as soon they gain possession, which isn't hard to do. What is Conte's plan? If he has one, the current players are either not good enough, or, with the talented, even world class players, they don't know how to make his plan work [if there is one]. The immense talent that does exist in the side seems neutered. Spurs. Missing in action.
Check back for more reactions. No goals, but a lot of people will have plenty to say about this one. Maybe we'll find out more about where it's all going pear shaped.
Preview: Christian Eriksen and the Bees are hosting a fellow London side desperate to win this to maintain a realistic shot at the Champions league next season.
Every match is a cup final given this nail-biting run-in to the season. But Tottenham's see-saw form, like that of 4th place rival contenders Arsenal and Manchester United, leaves no way to tell which of these sides will actually show up to their respective aforementioned cup finals.
Losing at home to Brighton was a massive blow but Tottenham Hotspur's run had to come to an end some time. However, the problem was that during that loss Spurs showed no signs of being Champions league material at any point, creating very little and lacking the creativity to hurt the visitors.
Brentford's awesome form
Then there's Brentford's awesome recent form. In the last six matches they've won 5 and lost 1 to boast 15pts. Spurs have been more than decent too, overall, but lag with 4 wins and 2 losses to claim 12pts.

The injury to Matt Doherty is a big blow for Spurs

&nbsp&nbsp
Emma de Duve
Attacking midfielder Christian Eriksen is not an opponent that his old club Spurs will want to face with so much on the line, but the Danish legend is set to start in a west London line-up brimming with self belief and playing for pride and boisterous fans who've followed their club thru thick and thin, mostly in lower leagues.
In the home encounter this season, late last year, Tottenham tamed Brentford rather easily. Heung-Min Son got "Player of the match" and was involved in both goals as north London triumphed over west London 2:0 that day, exceeding The Spur's prediction of "2 or 3 goals to one". Going into this game [prior to the playing of any of the weekend's matches] Spurs are level on points with Arsenal having played the same amount of games, and three points ahead of Manchester United with a game in hand.
It's a match the Lilywhites should win based on the level and expense of talent they can amass against the relatively small club resources of the hosts [even with the Bees enjoying some committed backing and laudable vision]. But Brentford's crowd tend to be a 12th man for games like this and the fervor will be palpable.
Brentford's web site spotlights the visitors in this article by Emma de Duve of Football.london.
Almost kick off time. We will be glued to the "Christian Eriksen reunion", as the Brentford FC website dubs it, from beginning to end. COYS.
---
Champions league form!

Spurs survive
storm to
get big win


Son, Kane, Hugo, you're so Kul
Sat, April 09, 2022
Aston Villa 0
Tottenham Hotspur 4

REACTIONS: It's full time, in the end a great and convincing triumph, check back for reactions. We're still in the top four but now more strongly anchored, and of course it's shaping up to be a massive derby against Arsenal destined to play a pivotal role in who gets that critically important Top 4 place. 7.45pm UK time on Thursday May 12.

2nd Half: It's a hat trick for Son Heung-min! But Harry, Kulu and Lloris are also megastars along with the whole side in their own way. They withstood a storm and finished like world class pro's. If Kulu makes the move from Juventus to Tottenham Hotspur we could go all the way, in England and Europe, the way he's fitting in. He seems to be that essential piece of the puzzle that completes the jigsaw - the chemistry is amazing.

The headlines will mostly blast out Son's hat trick, and the goals were a joy to watch indeed, but props to so many of the other Spurs players who were seriously on song. Just to name a few: Hugo kept us in the game when we had our defensive Spursy moments combined with Villa hitting form for a long spell of the first half, Kulu who is combining brilliantly, including with Son and Kane to create a fearsome front end, Harry who is not just a goalscorer but currently one the greatest playmakers and providers on the globe [two assists plus he "created" the rebound for another].

The Kulu goal shattered the morale of Villa, and before we could digest the sudden change of dynamics in this game's ebb and flow, Son put the result beyond doubt. Incredible stuff. And yes, that headed flick from Kane is utter, total brilliance, finding Son who once again hits the mark like a champ.

Oh wow, in a flash Spurs have fought back from the Villa onslaught and Swedish international Dejan Kulusevski nabs a second - desperately needed to consolidate wavering Tottenham, and a top shelf goal. Lloris to Kane to Kulu and a superb finish sends the away fans into ecstasy. That's what we were craving for after all the nail biting of everything since Son get the early first. Props to Kane as well - he's a top #10 as well as a top #9. With him, Son and Kulu as the strike force and simultaneously the providers for each other and teammates, we have become a lethal outfit.

Half time: Spurs clinging on for dear life thru most of that first half and a very early lead as Son latched onto a Kane shot that rebounded to the South Korean. Great on the face of it but the London club absolutely must find a way to take the insane and constant Villa pressure off. The home side was on the rampage and "it's not if but when" unless we get a handle on it.

First half: With a few minutes of the first half left Spurs finally take some pressure off themselves and almost got a second from a fast break but something needs to change in the second half or this could go from glory into disaster unless the momentum changes.

Mings fluffs a golden one, on one with the keeper, stemming from a Villa free kick after a Romero foul. This is stressful stuff. Can Spurs get some sort of a grip after that superb opening goal. Talk about hangin' onto a lead.
Hugo Lloris still pulling off some outstanding saves. Spurs gotta take hold of this Villa blitz and get back into a more possessional mode.
Uh oh, Doherty injured, knee issue. Seems okay now, wait, no, he's subbed by Reguilon, who himself is scythed down by the villanous Brummie player Danny Mings. Villa forcing string of saves from Spurs keeper Hugo Lloris.
You could not expect a better start than this. Harry Kane's shot is blocked but the rebound to Son Heung-min is buried. No mistake. Brilliant. Wow. But it's what you expect from these two whether a technical assist or not.
With Arsenal losing to Brighton this is majestic -- don't wanna make presumptions but IF we win this and go three points above the gooners then, yes, 4th place is ours to lose.
Did anyone mention Manchester Utd lost to Everton. Great result, nervy to watch at the end but Ronaldo, for example, very much lacking the danger that he showed against use not so long ago.
Match has kicked off. Very audible away support from the get go.
---
The Spur's Premier league
Spurs so stunning
Arsenal sink at Selhurst 3:0


Sun April 3, 2022 (Ssn 2021/22)
8.30a Pac/USA Online fuBo etc; TV = USA, Univ.
Tottenham Hotspur 5
Newcastle United 1
NUFC fan forum. Del Aware reacting. Official THFC Highlights

Reactions: highlights above, Newcastle seemed the first to get their link up but Spurs quickly followed. Beyond what's up so far, please check back, reactions still coming in.

With Arsenal losing 3:0 at Crystal Palace the following day, our hopes are soaring, but we gotta be realistic, fourth place and a Champions league spot are still Arsenal's to lose with one game still in hand over us.

True Geordie reacts. Lol, their team went to Dubai to bond and express to each other the hardships they each have surmounted so far in life. It's gonna be hard to explain how that trip paid dividends, except to slightly lessen Tottenham's hardship in nabbing a Champions league spot - still a long shot. Spurs - please just stay away from Dubai and bonding, leave that to the macho Geordies.

The Spur's reaction. The second half was a master class from Tottenham Hotspur. It's amazing after some of the lows that we've hit this season to see this club still fighting for a place in the Champions league and playing with this kind of understanding and belief. Whether a player is starting the game or coming on as a sub, they wanna get involved. Long way to go, but we're on the right track, and with some inspired recent signings we seem to be reenergized and sparked up.

Match:Bergie comes on and scores, fed by fellow sub Lucas Moura. THFC's tally now 5.

Bees beat Blue Launderers. Ex-Spur Eriksen pivotal player & scores

&nbsp&nbsp
CFC 1, Brentford 4

The goals pouring in for Spurs after a cagey start when Newcastle defended stoutly and got a goal from an abysmally defended free-kick that took forever to set up. Grim earlier state of affairs, but minutes later Spurs turned on the jets and have, subsequently, blown away the Oilers, on course to leapfrog Arsenal into 4th but the gooners of course have games in hand and play at Palace tomorrow.

Good to see Bentacur and Dejan Kulu getting standing ovations from the Tottenham crowd.

Scorers: [For NUFC: Schar (39m)], Davies (43m), Doherty (48m), Son Heung-Min (54m), Emerson Royal (63m), Steven Bergwyjn (83m). Assists: Son Heung-Min (43m), Kane (48m), Kulusevski (54m), Moura (83m).

Strap on for another battle against another dodgy foreign owned "park the money" type insult to the concept of, well, everything we should hold dear. The vertical black and white stripes of the Newcastle Oilers soccer franchise.

Warm up: Strap on for another battle against another dodgy foreign owned "park the money" outfit, an insult to the concept of, well, everything we should hold dear. The vertical black and white stripes of the Newcastle Oilers soccer franchise.

MAN OF THE MATCH: Son Heung-min is a magical player to watch, but this time every player deserves equal credit, and it was a joy to behold.
---
League match
Hot Spurs
Son in form & an amazing team effort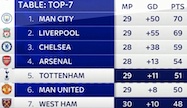 March 20, 2022. USA live tv & web.
Tottenham Hotspur 3
West Ham 1 [Final]
Matchday Vlog,Club's match HILITES
An exciting match and probably neutrals really enjoyed its many marvelous moments. Edge of the seat stuff for Spurs fans. West Ham didn't get battered but they were ultimately shown the door. Playing that high line, weary as their players were, was like offering themselves up on a platter, and inevitably the Lilywhites became the master breakers [....easy now -Ed.] of the moment.
Congrats to our dynamic duo Kane & Son for breaking the Prem record for combining as a duo to assist and score - breathaking to watch. The whole team played well. Conte's magic is kicking in. Remember it took a long time for Arsenal's current manager to get their side back to serious top 4 contenders - they persevered with the project even when it seemed a lost cause and their "supporters" howling for him to go, along with everyone else at their place.
"Rodrigo Bentancur with the coolest, yet scariest pirouette on the edge of his own box. Two West Ham players sent the wrong way and everyone in the stadium holding their breath for a moment." -- Alisdair Gold. Yeah, not for those with a predisposition toward anxiety, to put it mildly, including those viewing worldwide. You get yer money's werf - sure glad he pulled that off without a hitch. You gotta have chutzpah to "dare to do" that kinda stuff, but it's in our motto.
Second half: Raving about Son finding his form all match and oh wow, what a goal, route one from the back, via a nice headed flick by Kane, and Son turns on those jets and lashes the ball into the net. Another of so many Son classic goals. Brilliant. Talent. 3:1. We're still in the Top 4 race - the team's on form and the Kane-Son partnership is like reliving the Greaves-Gilzean understanding, only different modus operandi but equally riveting and effective. The current duo have now combined for a Premier League goal for the 39th time -- the record was broken at 38 but feel free to keep going, magicians!
For all the earlier criticism of Romero he's showing his skills in the 2nd half so far. Meanwhile Kulu and Son putting a bit of pressure on, but overall a fascinating half of possession and careful building up and waiting for the meaningful moments to create opportunities being shown equally by both sides.
Son breaks away with Kane up front....will it? Not this time. Now fans trying trying to chain themselves to the goal posts. Will Reg get sent off for slapping WHU keeper in the face. No red card. Close shave dude.
Early doors 2nd half Kane finds the onrushing Doherty in front of goal but ends in a supposed foul on the visiting keeper.
Half time: BBC stat: "Son Heung-min and Harry Kane have now combined for a Premier League goal for the 38th time, overtaking Didier Drogba and Frank Lampard (37) as the duo who have assisted one another for the most goals in history of the competition." Congrats, another record broken by Tottenham Hotspur's finest.
On a less positive note: BBC poster Paul: "Pathetic defending again from Spurs. The fans laud Romero for some reason, he simply cant head a ball and cant mark from set pieces. 2-2 incoming." We can avoid it, but we gotta get it right at the back, no doubt.
Seems like we're on the edge of a precipice with WHU managing to get one back. No doubt a riveting match but how we could have used that two goal lead going into half time. As we know only too well, Spurs can be 3 up over that lot and still not win the game. But we're on song, literally, and we have what it takes. Defenders - please defend set pieces including out heading the oppo.
First half: Spurs, don't do this to us. That said, we know West Ham are in good form and manager David Moyes is not one to roll over. Good thing we got two, because ex-Brentford Benrahma gets one back following a corner in the 35th min. Now it's a nail biter again....
Well, he deserves it. Son has been bustin' loose in this first half and his partnership with Harry Kane caused the first [own] goal, and this time he's the scorer of one of the best home goals ever scored by Spurs in its telepathic precision passing and execution, with a glorious finish by the South Korean international to put the Lilywhites two up.
Just after the goal another incredible moment as Kulu starts a move that Son almost finishes but hits the post. Son again in the thick of the action. He's shining right now.
Son is god! Heung-min Son is back in form. Great feed from Kane who slaloms past some gormless Hammers and what looked like a Son score is actually an own goal. Commentator tells us "Own Goal" is Tottenham's third top scorer!
SPURS STARTING XI: Lloris; Doherty, Romero, Dier, Davies, Reguilon; Bentacur, Hojbjerg; Kulusevski, Son, Kane.
LWLWLWLW it's time to break the cycle, and not in the next game against corrupt Newcastle who shouldn't even be playing, it's the English top tier not an offshore oil fund stash.
In fairness to the Spammers they have a lively online presence but they are still convinced this is our cup final. They don't seem to know that Arsenal and Chelsea exist and that they should stick to exchanging insults and blows with Millwall with whom they have much more in common. They are enjoying unusual success but they have a terrible stadium for football and lost their soul a long time ago. Our need to be "up for it" has to with bigger concerns than that they are the spammers.
It's all about to kick off. Come on you Spurs. Destroy the Hammers. We need to win for obvious reasons. Check back as the match is about to start and the coffee is kicking in and we're psyched.
---
League match
Kane's day
Perfect THFC response to loss @ ManUre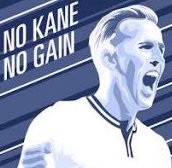 Record
breaker!

Wed, March 16, 2022
Brighton & H.A. 0 (0)
Tottenham Hotspur 2 (1)
Harry's goal Full time

Reactions: Harry Kane scores a 2nd half goal that makes him the player with the most away goals ever scored in the Premier league. Plus, he was unselfish as usual, creating several excellent goal scoring opportunities for others and being an all-round consummate team player.

The L-W-L-W rollercoaster continues [we don't do draws, orl or nuffink as our alternative motto goes] but the Lilywhites truly wish to break that pattern when we "host" West Ham [US: 9.30a TV:USA chan., Online:Fubo etc] - cordially of course, as the old Spurs programs used to say, on Sunday.

Second half: What a great counter by Tottenham as they spring the Albion high line topped off with a brilliant thru ball from Uruguayan midfielder Rodrigo Bentacur to Harry Kane, he's onside with the keeper to beat. He does what he does and the traveling faithful go beserk as Harry salutes their loyalty. That counter punch was Swiss-watch timing by the London side.

Liverpool's Jota & Firmino sink Arse 0:2

&nbsp&nbsp
Joyful day for THFC
First half ended 0:1. The first half was heading towards a forgettable scoreless non-event until a fluke goal by Cristian Romero. He didn't know much about it but the keeper was left stranded. One-nil. The move started way back from a throw-in, Spurs moving the ball around and switching channels, eventually reaching Son, somewhat fortuitously as Reg's pass originally went straight to a defender who couldn't control it, leaving our South Korean star to find Dejan Kulu. The Swedish international's shot deflected off Romero into the only goal of the first half, 38min. Son and Kulusevski were the people who made it happen ultimately.
SPURS LINE-UP: Lloris; Doherty, Romero, Dier, Davies, Reguilon, Hojbjerg, Bentacur, Kulusevski, Son, Kane.
It's kicked off. Here we go. Strap on. Kane misses a golden chance, open goal but very tight angle. Looked like a brown bag moment, but good steal from the legend to create the moment.
Preview: Match kicks off soon, unfortunately on the much disliked and clunky online channel called, at least on the credit card statement: "POS Peacock". Couldn't have put it better myself!
Quick observation on other things going on around THFC. Noticeable how Cristiano Ronaldo, after destroying us at Old Trafford just a few days ago, became a lame duck as United whimpered out of the Champions League against Atletico Madrid.
Another talking point is of course the endless "Is Harry staying or leaving?" saga and the public facing party line is that he's staying however qualifying for the Champions league would really help. No S**t.
Given our W-L-W-L run [no draws allowed] it should be our turn to win today and I do hope Brighton are aware of their obligation in this matter.
Brighton are seriously out of form and would a love to meet a team that could help them bounce back. They can't win a home league game to save their lives. No comment. That said, they go into this game 13th, so not relegation bound or even close. But their last five league results: L-L-L-L-L.
---
League match
Ronaldoh!
Red carpet for rampant CR7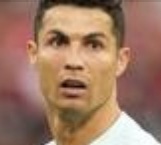 Given freedom
of the park
by Spurs

Manchester United 3
Tottenham Hotspur 2
Various on US & UK TV & online
March 12, 2022 [Season 2021/2] Hilites

Full time: It was like the Cristiano Ronaldo show in the end and Spurs accepted and seemingly went along with the script, rolling out the red carpet for CR7 to run away with a hat trick. WTF.

Second Half: How the **** was nobody properly marking Ronaldo who was clearly frothing for a hat trick. What a waste of all the previous THFC effort.

Ronaldo desperate for a hat trick and only a wonder save by Hugo Lloris denies.

"Oh Reggie, Reggie; Reggie Reggie Reggie Reggie Reguilon". And it paid off - the other Harry scores, an own goal by Maguire trying to defend a super awkward Reguilon center that succeeded in its dangerous menace. Kane, Son and others also involved in the build-up that brings the score level. Get in there, Lilywhites!

48th minute a look at how this team could gel and become a top side for next year, building from the back, stretching the enemy defence, and then the dangerous cross into the box, this time just about headed behind for a corner which, sadly, came to nothing. But look, that's a THFC side that, when doing it right, knows its stuff.

Alright, he we go again. Win lose, win lose, win lose, win lose - the story of the current Spurs, eh?

Half time as the 1st half winds up. A Ronaldo brace, a Harry pen. We caught Ronaldo at his world record breaking best [as usual count on THFC to revive an aging opposing star's flagging twilight career], but at half time there's every reason to think that Spurs can get at least a point out of this. That said, a Ronaldo hat trick and/or a ManUre win is equally or somewhat more likely on the showing so far.

First Half: Ronaldo scores early doors, Harry Kane no mistake with a penalty to avenge a handball, and then Ronaldo gets his, and United's, second to give them the lead going into half time.

Losing the reverse fixture 0:3 earlier this season was Nuno's swan song and he was rapidly replaced by Antonio Conte. Preview coming up soon for the fixture that always grabs the globe's attention: Man United vs Spurs.

BBC Football: "We know Spurs can be flaky but the form that Harry Kane and Son Heung-min are in at the moment makes me think they will cause United all sorts of problems, if they get any sort of supply." - Lawro.

The Guardian: "The equation is fairly simple for Manchester United and Tottenham. This is a game neither can really afford to lose as they pursue Arsenal for a top-four spot. In the hosts' case, losing further ground when the Gunners will have four games in hand on Saturday night would be particularly costly. A win would at least put them fourth and give rivals something to topple. It will be intriguing to see how these two sides respond, respectively, to a crushing derby defeat and a thumping win over a dejected Everton."

Tottenham Blog: "Oliver Skipp and Japhet Tanganga remain sidelined through injury, while Ryan Sessegnon has also joined the treatment list with a hamstring problem." Word On Spurs [with Ricky Sacks]: "Tottenham Hotspur are prepared and willing to offer either central defender Cameron Carter-Vickers or Spurs midfielder Harry Winks in a part-exchange transfer for Southampton star Tino Livramento in the summer window."
---
Premier action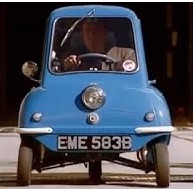 Spurs on fire
in a must win
for both

Spurs chew Toffees
Scorers: OG, Son 2, Kane, Reg
Tottenham H. 5 Everton 0
Mon, Mar 07, 2022 (Ssn 2021/22)
Tottenham H. stadium
US: TV: USA, Univ. Net: fubo,Sling,Hulu,DirecTV[strm]. 12n US-Pacific. by Jack Plugg

After this victory all eyes will turn to our trip to Manchester Utd who want the same top 4 spot as us. Gonna be a big 'un.

Spare a thought for the Toffees. Everything is relative. In recent years we've been lamenting the poor state of our club, but, compared with Merseyside's original big club, we are in astronomically better shape. Not to say that absolves some decisions made in the past, but which would you rather be?

Second Half: Reguilon makes it 4 then Kane gets his second. Can't type quick enough to celebrate each goal!

First Half: It looked offside but credit to Harry Kane he timed it so well - goal number #3 for Spurs and not even 40 mins into the match. Frank Lampard is not happy - his new charge is getting lamped!

Spurs had three serious opportunities in the first 20 minutes and bagged two of them to leave us Lilywhites fans in ecstasy and then breathing a massive sigh of relief. The season and our club's future are not yet done and rusted.

The first was an own goal but Ryan Sessegnon was the architect of the Everton chaos and Tottenham Hotspur fans behind the Paxton road goal erupt in joy. About 2 mins later a beautifully worked Spurs goal involving quick thinking by Kulu and Harry among others ends up with Son bagging number two in style.

Preview: Not much time for a preview with an insane schedule [like 99% of us] but, without exaggeration, we all know that both clubs' future viabilities really depend on games like this one. For us of course we need our superb and shiny stadium to be hosting the top Euro competition for revenue but also to bring in the exciting winning talent. Everton are fighting to stay in the Prem and without it they are in deep, survival mode trouble.

Check back. We're in this together and we're addicted to Spurs whether we like it or not.

Please check back as the match develops and for post match reactions, although tennis in Spring weather beckons shortly after the match so won't be around 'til much much later Pacific following a lightning reaction immediately following the game. -- JP
---
The Spur's FA Cup
Just the Prem left
Uninspiring stuff


March 01, 2022 [Season 2021/22]
Middlesbrough 1
Tottenham Hotspur 0
ESPN+

Well, it didn't go well. A goal in the 2nd half of extra time and it's curtains for another edition of the FA Cup. More reactions soon.

Gotta leave [at half time of extra time] for a meeting now. I'll check back afterwards. COYS.

The game got so dull in the second half that the video literally died, and then less than a minute later the audio did too. Just flipping to news channels to see if a nuclear war has started. Vacuum bombs from the war criminals possibly, but no word on a nuke yet. Match coverage is still dead. Now back. Now dead again. Now the pic and commentating are back, but, talking of vacuum bombs, it sounds like a giant sucking sound instead of the crowd behind the commentary. Very creepy indeed. Still 0:0 of course and both sides without a clue or a care in the world.

"Boring boring Boro" as the chant goes, to say nothing of the visiting side. Both sides have settled for penalties as the way to bow out without being blamed for anything other than bad luck - that's the vibe. Downside - half an hour more of this shite for the players and the fans.

Second half and Harry flips the ball into the net but offside. First goal opportunity of the match. Ouch. When it's Boro even vacuuming seems exciting by comparison, so nice clean upper level of Spur Tower.

Tottenham Hotspur line-up: Lloris; Doherty, Romero, Dier, Davies, Sessegnon, Hojbjerg, Winks, Kulusevski, Kane, Son.

Preview: Back in 2016 a cool brace by Son Heung-Min was enough to do the trick, with Boro getting one back, in what looked like a frenetic blood 'n thunder Prem affair. Holy schiatt that was a stupendous second goal from Son, probably the Spurs goal of that season. No wonder they say the Son always shines on TV.

To say that some of Boro's tackling was agricultural by the end would be an understatement, the one that could have broken Lamela's leg [good nutmeg Erik] was a Monsanto special.

Spurs dominated, Son, Alli, Eriksen getting plaudits on Sky, but Boro branded as rudderless, tho' had their moments. Downing cross found Gibson who apparently "wanted it more" [uh oh] than Sissoko and got one back.

Match kicks off soon so check back for reactions soon. Match kicks off soon so check back for reactions soon. Match kicks off soon so check back for reactions soon. Match kicks off soon so check back for reactions soon.

Match kicks off soon so check back for reactions soon. Match kicks off soon so check back for reactions soon. Match kicks off soon so check back for reactions soon. Match kicks off soon so check back for reactions soon.
---
League match
Spurs bounce back
Players enjoy sweeping win



Leeds United 0
Tottenham Hotspur 4
US TV:USA,Uni. Net:Fubo,Sling,Hulu. Feb 26, 2022 (21/22). NBC/USA Highlights.
Reaction: Spurs bounce back with a convincing 4-nil away win, admittedly against a side that is bereft of confidence and couldn't even score when it was handed to them on a plate.
Yahoo: Spurs crush Leeds.
THFC official match reaction.
Kane and Son were back in form and reign as the supreme attacking duo in English football currently, Winks & Hojbjerg shone again [thanks Leeds!], even Docherty was solid [+ scored and assisted]. Ben Davies made a memorable "save" sprinting back to foil a dillying Stuart Dallas, who for a second had an open goal until our Welsh international defender blocked the Irishman and prevented Leeds getting on the scoresheet. Both sides went for it. Spurs had more possession - even as the away side. Above all, a team performance and, amazingly, after a few minutes of even play the London side took control and never loosened their grip on the game.
Tottenham manager Antonio Conte's posture between the previous loss at Burnley and this visit to Elland Road seemed to work like a treat - "OK guys, I'm at my wits end trying to make things happen with Spurs - it's over to you lads - you go out there and prove me wrong. It's all yours."
But again, it has to be said, Bielsa's trademark style currently imprinted on Yorkshire's biggest and best supported club was the perfect side for Spurs to meet - if they were to respond to their manager successfully - and, as it turned out, to beat.
Despite the old school rivalry between the two most famous white shirted sides the British Isles has ever produced, a rivalry which often got out of hand on the terraces of yesteryear, I hope they stay up.
How many other "big" sides' fans will applaud their players off the pitch, dejected though they all were, rather than booing and jeering. They don't forget what their manager has done to get them back into the top flight. But now they're fighting for their lives to stay there, and there's a looming possibility of one or more of England's most legendary clubs - Leeds and/or Everton - taking a massive fall into the second tier.
More reactions from the globe and beyond on the ways.
Preview: Losing at Leeds in the corresponding fixture last season shattered any Spurs hopes of making the Euro champs league. Sound familiar?
BBC Football: "On a frustrating day for Spurs, Harry Kane had two goals ruled out for offside and hit the bar from a free-kick, while Illan Meslier produced an excellent save to keep out Serge Aurier's deflected attempt."
Let's see what happens this time out at illustrious Elland Road.
---
League match
Kane on fire
Kane brace + Kul early goal



Feb 19, 2022 [Season 2021/22]
Manchester City 2
Tottenham Hotspur 3
NBC highlights. FULL TIME
Reactions: More reactions throughout the night. Meanwhile, an incredible result and Tottenham have done the double over the best club side in the world, Manchester City, winning at home under Nuno and now away under Conte. Kane was on fire but this was a magnificent team effort and hats off to our heretofore beleaguered manager Antonio Conte. He's the man.
Spurs had five or so chances and yet managed to win away at Citeh even as the home side, considered the best in the world currently, absolutely laid seige to the visitors' goal almost non-stop.
Props to the Spurs fans up there [or who tried to get up there] especially as trains from Euston to Manchester were cancelled and a lot of Lilywhites never made it, while others had to switch to driving up at very short notice.
Second Half: Incredible finale, City equalize with penalty against Romero but Harry Kane wins the match! Easy eh? Breathtaking stuff.
Sessignon to Son to Kane who, onside, fires the Lilywhites ahead for a second time with just over half an hour left. Spurs with 2 goals out of four goal attempts, but realizing their potential to break and do damage when it counts.
2nd half bout to start. How can Spurs neutralize the City onslaught? City are successful partly because it's almost impossible to keep them out. They always have several players who find space as they bring the ball forward and seem to have several options at any given time when attacking.
First Half: There's no let up in this frenetic action. City have found their stride. Apparently THFC enjoyed only 33% of first half possession. Still, so far it's equal at one goal apiece.
33rd minute City equalize, Lloris parries a shot but straight to City's Gundogan who powers it into the net to equalize. Hugo not at his peak, but Romero is, what a defender, and Kulusevski giving it everything on top of scoring earlier.
Halfway thru the first half and City really applying the pressure. Now about three serious chances that could have equalized and several other lesser chances, but they're now controlling the game, their fans have found their voices, but Spurs quick on the break and that's the strategy.
City starting to exert some control and very close to equalizing, but not yet, still party time for the vocal away support.
Guardian Play by play: "Kane, perhaps with a point to prove after the transfer fiasco of the summer, looks well up for this tonight." He does - some sensational passes by him. Mr Unselfish, he's working for the team and they're all playing together so far.
Match is underway. First few minutes and Spurs so far the livelier but extremely early doors. That said, before 4 mins is up, Son is released to ultimately turn it in to Dejan Kulusevski to score. Sensational. What a move out of the back from everyone involved including Kane and Son.
Tottenham won the home corresponding fixture and we were all singing manager Nuno's praises, but that was his peak moment with this club and the side couldn't maintain that glorious high, ultimately Nuno became untenable as manager.
Match is underway. Match is underway. Match is underway. Match is underway. Match is underway. Match is underway. Check back for more reactions.
Match is underway. Match is underway. Match is underway. Match is underway. Match is underway. Match is underway. Check back for more reactions.
Match is underway. Match is underway. Match is underway. Match is underway. Match is underway. Match is underway. Check back for more reactions.
Match is underway. Match is underway. Match is underway. Match is underway. Match is underway. Match is underway. Check back for more reactions.
---